Don't Ruin Your Perfect Workout Week over the Weekend
posted on August 25, 2017
---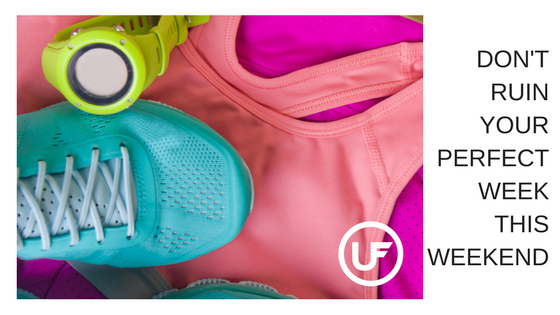 We hear a familiar story from a lot of members that are having trouble reaching their fitness or body composition goals: "I do great during the week, but once the weekend hits, all bets are off." Logging 5 "perfect" days – hard daily workouts, healthy eating in appropriate portions, regular sleep – is all well and good, but it's really easy to throw that all off if you drop your routine completely from 5pm on Friday to 10pm on Sunday!
The number one most important aspect to succeeding in anything – weight loss, strength gains, lifestyle change – is consistency. Unfortunately, it's just not enough to be super strict during the work week; you need to keep your goals in mind and continue with your healthy habits (most of the time, see below) on the weekends too. There are a ton of ways to make this easier, so here are just a few:
Don't over-extend during the week
It can be really tempting to drastically restrict your food, or do hours and hours of cardio during the week to "make up for" the weekends. That then turns into a cyclical pattern of restricting and then binge eating on the weekends, partially because you "earned it," partially because you're actually really hungry! If you've found yourself in this pattern, consistency across the entire week is the solution. Choose a food goal that you can reasonably meet every single day. That probably means letting yourself eat foods you actually like during the week, and that's okay. You can build heartier meals and fun snacks into every day life by choosing lighter foods other times of day. When the next weekend comes around, you likely won't feel as desperate to go nuts on sweets!
Keep your habits consistent
I would bet you've heard that catching up on sleep on the weekends isn't actually a good thing. Try to apply that idea to every part of your lifestyle. Like I said in the previous point, staying consistent all week long is the way to go, both for eating and for everything else! Try to go to bed and wake up around the same times each day, and strive to get some movement in daily as well!
Take advantage of weekend fitness opportunities
This is where we can really help! Pittsburgh is full of weekend fitness opportunities. Here at UF, we offer a free community yoga class every Saturday at 10am to get your weekend started. We also now have a Sunday run group that meets at the gym on Sundays at 10am. But don't stop there – get outside! Enjoy the end of summer in our beautiful parks and on the rivers. Hiking opportunities in and around the city are abundant. Kayaking here is also an amazing experience. Our run group will be heading out for some kayaking on the river this Sunday, August 27 at 11am. We encourage everyone, runner or not, to come give it a try
Read More
---