Facts and Myths About Protein and Protein Shakes
posted on August 14, 2017
---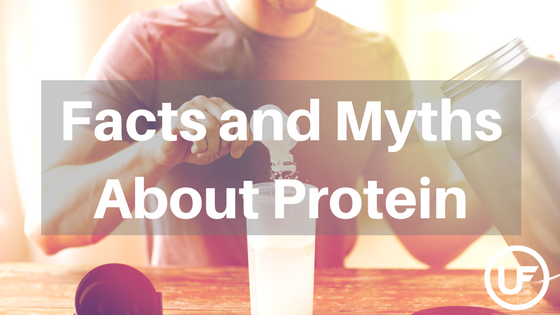 Myth– Protein shakes will make you lose weight. Proteins are broken down in the body through glycolysis the same way that carbohydrates are, so if you consume too many calories whether it's from protein, carbohydrates, or fat, you will gain weight.
Myth– Protein shakes will make you "bulky" or "fat." If you add whole milk and peanut butter, you might! If you're trying to keep it lighter but jazz up your shake with something other than water you can add skim or almond milk, plain yogurt, fruit, or PB2 peanut butter powder.
Myth– You will get "too muscular" from drinking protein shakes. Consuming protein doesn't produce more protein, which means you won't directly gain muscle from drinking a protein shake. It takes a lot of physical effort to gain muscle over a long period of time.
Myth– You need to consume a protein shake within the 20 minute post workout "anabolic window" to gain benefits. The body doesn't work in this overly simplified way. Get your protein in post workout but don't stress if it's an 60 or 90 minutes after you're done.
Myth– Protein is bad for your kidneys and you can only absorb 20-30 grams of protein per meal while the rest is excreted in urine. Again, an overly simplified view of how the body works. Consuming more protein is not "wasted", it just takes longer to digest.
Myth– "If I'm not exercising, I don't need to consume protein." Whether or not you're active, protein is an essential macronutrient. Athletes and non-athletes still need adequate protein intake. Athletes may require slightly higher amounts to support muscle repair and fill their caloric needs but the amount doesn't necessarily need to be drastically higher than that of the average person. For any given individual, of the three macronutrients (protein, carbs, & fats), the amount of protein per day should remain consistent while the carb and fat amount can vary based on activity level.
Fact– Protein deficiencies are very common and an increased protein intake has powerful effects on increasing the rate of injury repair and reduce illness.
Fact– Protein shakes are supplements (as in they should supplement the diet) not replace whole, minimally processed food sources like vegetables, lentils, beans, and meat.
Fact– There are different kinds of protein powders that have different effects and purposes. Whey is fast absorbing so it is suggested to consume post or intra-workout. Casein is slow absorbing and suggested to consume midday or closer to bed-time. Neither is better or worse than the other.
Fact– Protein shakes are not for everyone. Whey and casein are derived from milk proteins, so if you're lactose intolerant or have a sensitivity to dairy products (or tend to feel bloated or gassy), try a different brand or other protein powders such as pea, beef, hemp, soy, rice, or egg.
Fact– All protein is made by plants. Only plants can take nitrogen from the air, break the nitrogen molecules apart, and incorporate the nitrogen into amino acids to make proteins. Because plants are producers of protein from which all other proteins are derived, they have a much more beneficial effect on the body. Animals are consumers of plants or other animals, so their proteins are recycled in the food chain.
Fact– There's nothing magical about consuming protein powder, it's just a convenient protein source.
Check out Registered Dietician Andrew Wade's Recipes (macros and calories included!!) to make protein smoothies, protein pancakes, protein oatmeal, protein yogurt, protein cupcakes, protein bars, AND protein waffles!
http://casespecificnutrition.com/wp/wp-content/uploads/2015/03/Daily-Whey-Recipes.pdf
Andrew will be speaking at our Free Nutrition Seminar on August 24th from 6-7pm at Union Fitness!
Read More
---