posted on September 6, 2017
---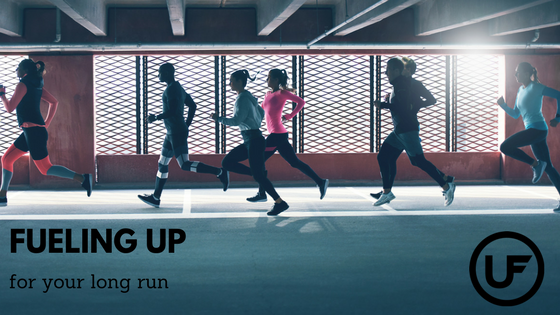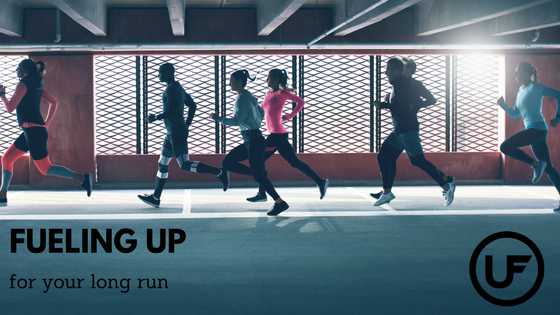 Fall is officially here with its changing colors and crunchy leaves, perfect outdoor running weather! Running is pretty straightforward, move your legs, move your arms… it's something we've done since we could walk. Properly fueling for a long run, however, isn't always as easy. Here are some tips to make your run optimal from start to finish.
Pre- Workout
The main fuel source during a workout is coming from stored carbohydrates 2-3 hours before exercise (food that's had time to be digested and absorbed by muscle). Some people will need a little more time than this for food to digest, but several hours should be sufficient.
What to eat pre-workout?
Have a meal containing vegetables, protein, carbohydrates, and fat
If you prefer to eat closer to your workout (within an hour or so), avoid fats (i.e. a peanut butter sandwich) until after working out
Eating fats too close to training means your body will be working hard to digest, when the primary focus should be on muscle recruitment in exercise
It's optimal to fuel a workout with carbohydrates, particularly easily digestible ones such as fruit or a goo gel
Drink water: hydration tends to be overlooked as a method to fueling workouts prior to stepping foot on the treadmill or on the pavement
You shouldn't feel like you have to chug water during a workout, and the goal should be to sip throughout, consuming around 32oz per hour
How much water should you be drinking each day?
Water intake depends on height, weight, and activity levels, but in general:
Men: 125oz (about a gallon)
Women:  96oz (¾ of a gallon)
Intra-workout
Incorporating a fuel source during exercise will depend on exercise duration, intensity, and energy output. The last thing you want during a long run is your energy levels to plummet when peak performance is necessary. Coming prepared could make all the difference in your workouts or assist in a win on competition day.
What to eat intra-workout?
Fast digesting carbs or protein: fruit (banana, apple), granola bar, protein bar, protein shake
Post- Workout
Within 40-60 mins after exercise (this is not a rigid timeframe, there's no specific time you must eat after exercise, it's simply a suggestion to prevent excessive hunger and overeating). The focus should include protein for muscle recovery, and a majority of your carbohydrates should be eaten after working out to refuel your muscles, preparing you for your next workout!
What kind of protein and carbohydrates to eat?
Protein powder or a bar is fine if you're in a rush, but whole foods in their simplest form such as lean meats, eggs, greek yogurt, beans, for protein and slow digesting carbohydrates such as potatoes, quinoa, or rice are going to be the best options
Sometimes after training you might not feel hungry. If you don't feel like eating, you can go with liquid nutrition such as a shake or just wait until your stomach is settled
2-3 hours after last meal
Have another balanced meal of protein, carbohydrates, vegetables, and fats
Later in the day is a great time to get more of your fats in, again, they are slower to digest, and will keep you feeling full longer
Read More
---