posted on September 7, 2017
---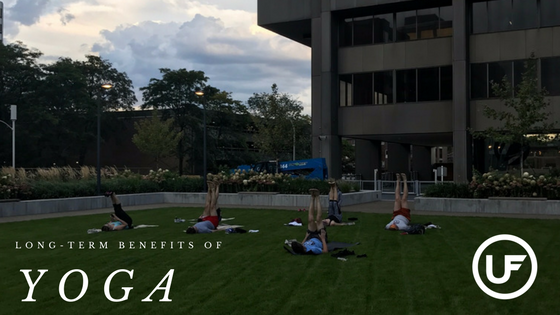 Ahhh, yoga!  It's that time again for me to express my undying love for the practice of yoga.  Really, it's a topic I could write about endlessly.  If you come to one of my yoga classes, you're guaranteed to hear me spout off a list of all the many great, wonderful, fabulous, fantastic things there are about it.
I was asked recently by one of my newer students about what happens when you practice consistently over a period of months and even years. There are multitudes of short term benefits of yoga.  Just check out my previous blog post: https://unionfitness.com/why-yoga-will-become-your-best-friend/ .  But what are the long term benefits of a yoga practice?
The thing though about long term vs. short term benefits of yoga is that they are nearly one in the same.  Most of the long term benefits can actually be seen or experienced quite early.  I'm not even making this up, there's empirical research to back up these claims! One study found that a single yoga class (YES, ONE CLASS!!) reduced tension, anxiety, depression, anger, hostility and fatigue for inpatients at a psychiatric hospital.  Besides clinical studies, there have been real life "experiments" with the practice of yoga and meditation, with astounding results.  One elementary school in Baltimore replaced their school detention program with a "Mindful Moment Room".  Instead of being disciplined or scolded these young children practice mindful meditation and breathing exercises, with a chance to practice yoga before and after school.  And what were the results of this experiment?  Since the creation of this room, there have been zero suspensions and less disciplinary issues across the school.
I feel very confident saying that after just one class you can reap the many benefits of yoga: less anxiety, less tension, increased energy, decreased blood pressure, etc.  So if you can enjoy these benefits after just one class, what exactly happens when you commit to practicing consistently and more often?  For an inspirational story, check out this amazing guy: https://www.youtube.com/watch?v=qX9FSZJu448 !
There is no "one size fits all" approach to the long term benefits of yoga.  The beautiful thing about your yoga practice is that it becomes tailored to your individual needs, physical and emotional.  These needs may change over time and so, thus, does your yoga practice.  Whether you practice for 10 minutes or 90 or whether you practice once a day or once a month, there are benefits to be had!  Join us for a good dose of these benefits in one of our yoga classes here at Union Fitness!
Read More
---