Blog
posted on December 11, 2019
---
For this weeks Meal O the Week (or weak) we brought in our own Santa Clause who is going to deliver you the best recipe that I have encountered in a while. Our friend Skylyn is not only a heck of a lifter, she is also a great cook. So give her creations a try. 
What makes this cold weather a little more bearable? Soup, of course! Here is a recipe for a delicious, creamy tomato seafood bisque.
A diced onion, celery and carrots cooked in about a half a stick of butter in a soup pan until soft. Throw a couple tablespoons of flour in and mix and then add in about four cups of vegetable or chicken broth, garlic, one bay leaf, two cans of diced tomatoes and let simmer for about ten mins. Then add in two blocks of cream cheese (continue simmering until creamy and melted). Once that's done, blend it! Make sure you take the bay leaf out first though. And then comes the seafood! I used a pound of seafood mix (muscles, scallops, shrimp & calamari), a pound of shrimp and about a pound and a half of haddock! I cooked all of it first in the oven with butter before throwing it in. Mix it up, top it with parsley and inhale it! It goes great with a side of baked sourdough bread.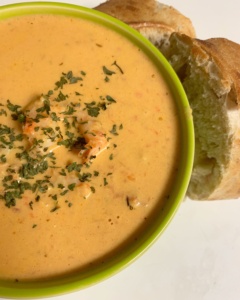 Read More
---