Blog
posted on May 8, 2019
---
Let me start out by saying that yes, I realize this meal is seasonally inappropriate. I run cold for some reason so when it dropped down to the 50s Sunday evening, I took full advantage and made myself a stew.

I've been traveling a lot recently, so haven't had a ton of time for meal prep. I have a few staples when I'm lazy that I'll post on here at some point. This weekend I finally had a day to get caught up, so in this log I want to focus on the big piece of chuck I slow roasted.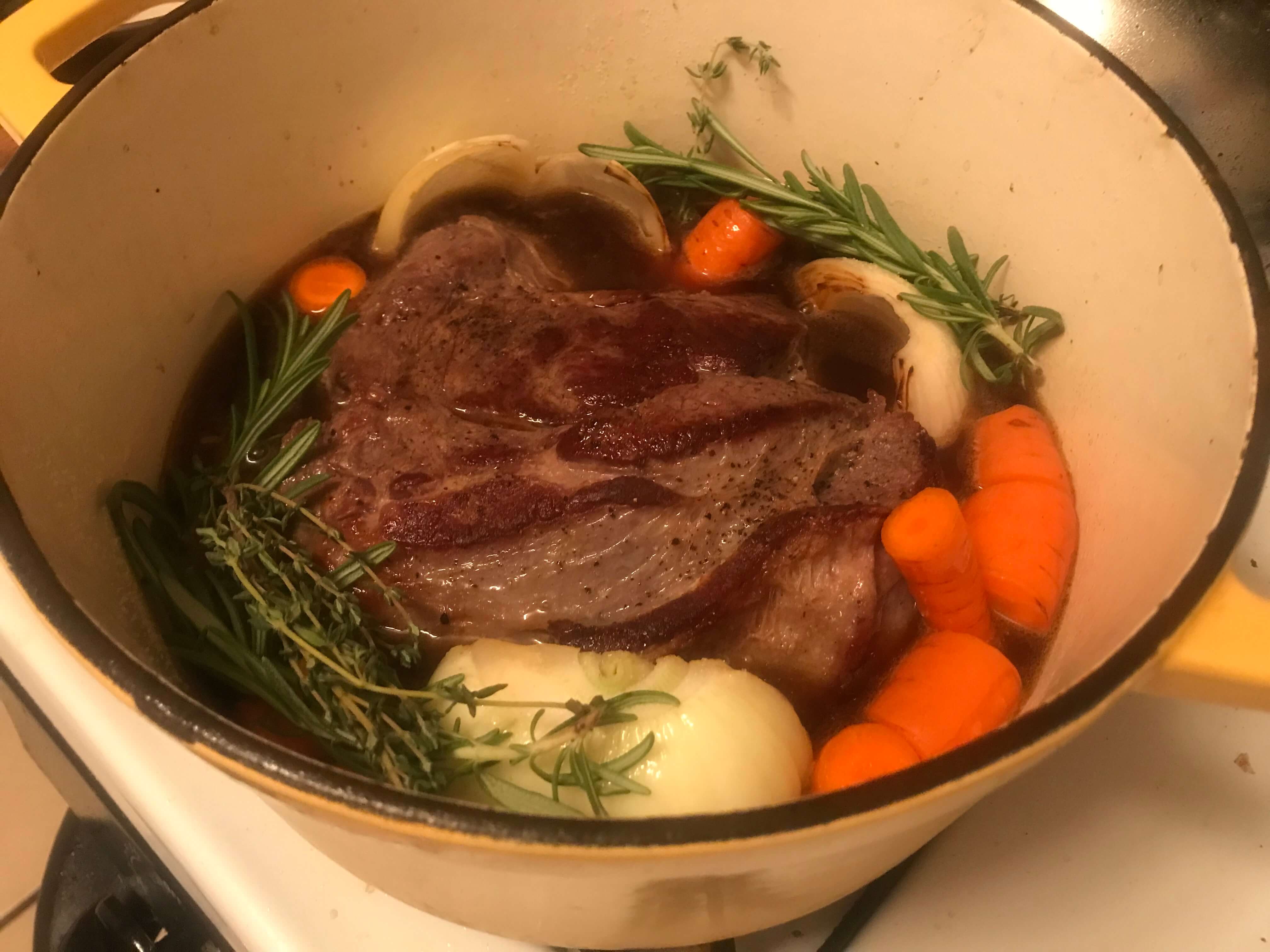 I've been lucky enough to go in on a Butcher Box membership with a friend. It's a monthly meat delivery service and I cannot recommend it enough! Every order has been full of delicious, ethically sourced meat, and it ends up being WAY more cost effective than what I was doing (going to the Giant Eagle in my neighborhood every other night). I've had chicken, pork, and beef from them and have loved every bite.

Since I was chilly and had this piece of chuck sitting in my freezer, I went all out and actually turned my oven on to roast it (and later some broccoli, which is my absolute FAVORITE roasted veggie – all you need for this is to toss that broccoli in a bunch of olive oil, salt, pepper, and garlic powder, then roast for ~20 minutes at 375 deg. F).

For the stew, you'll need:

A 2-2.5lb beef chuck roast
Avocado oil (or your favorite cooking oil)
5 carrots, cut into large chunks
1 yellow onion, halved
~3 cups of beef stock
A few sprigs of fresh rosemary and thyme (getting Christmas-y in here)
Salt and pepper

To make it:

Let your chuck roast come to room temperature, then pat dry and season all over with at least salt and pepper.
Preheat your oven to 275 deg. F.
Heat your oil of choice in a heavy bottomed pot that's oven safe and has a lid for later.
Add the halved onion, brown on each side, then remove to a plate.
Add the carrots to the hot oil, browning for 1-2 minutes. Remove to plate.
Add more oil if needed, then sear your roast on both sides. Remove to plate.
Add ~ 1 cup of beef stock (or red wine if you're fancy) to deglaze the pot. Really scrape all the good brown bits off the bottom. You won't regret it.
Add the roast back to the pot, and then add your remaining beef stock. It should come about half way up the roast.
Add your carrots and onion, plus some more salt and pepper to taste, and the fresh herbs.
Cover and place in the oven. Roast for ~2.5 hours, depending on your oven.
Pull it out, let it rest for a bit, and enjoy!

We have a rice cooker at work, so I'm eating this on a bed of rice every day. Would also be fantastic with some rosemary and garlic roasted potatoes!

If you're not weird and cold like me, maybe save this for the fall. It'll still be good then!

Read More
---