posted on March 20, 2019
---
UF Eats: Travel Edition
by Lindsey Pogson
Last weekend I took a (very) quick trip home to Philadelphia, and figured what better topic for my first food blog than how I handle my nutrition while traveling!
I take this trip somewhat frequently, but this was my first time driving it by myself. I was nervous, but everything went just fine. I could stop as often as I wanted and listen to whatever I wanted the whole time, so no complaints! It also made the eating part a whole lot easier.
I wouldn't say that I throw all caution to the wind when it comes to food while on trips like this, but I do try to lighten up a bit. With my meal prep habit, I normally tend to eat the same foods each day, but I let that go when I visit home. I really only have two guidelines that I follow loosely:
1.  Add veggies and fruits whenever possible.
2.  Indulge, but only when it's really worth it.
So how does that look? I start with what I'm eating on the road. I generally don't think the kind of fast food on offer at the Turnpike rest stops are worth it (with one exception that I'll come back to later), so I pack my own food. Pro tip: every rest stop on the Turnpike has a microwave in the gas station store, and anyone can use it. I always do. On my trip out, I prepped some snacks (veggies and guacamole, some fruit) and a normal meal: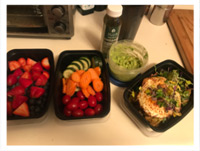 Odds and Ends Breakfast Hash:
Two handfuls of red or yellow potatoes, diced.
2 slices of thick bacon
1/4 onion, diced
1 clove of garlic, minced
Cooking spray (I like avocado oil)
2 eggs
Whatever veggies, herbs, and toppings that needed to be eaten yesterday, diced
In a pot, par-boil the potatoes until you can pierce them with a fork.
In a large pan, fry the bacon until just before crispy. Let it drain on a towel, then dice.
Turn the pan heat to medium-low and cook the onions until translucent. Then add garlic and any hardier herbs you're using (I did rosemary here).
When that all smells really, really good, add your other hardy veggies (I used asparagus). If you're using leafy greens, save for the end.
Cook the veggies for 2-3 minutes, then add the par-boiled potatoes.
Cover to cook until eggs are finished. Remember to shake or stir every once in awhile, but really give those potatoes a few minutes to crisp up on the bottom!
Spray another, small pan with your cooking oil and let it warm up. Then fry your two eggs however you like them!
Once the eggs are done, throw your hash in a bowl, top with the eggs and whatever other toppings you have (those are micro greens on mine), and enjoy!
I didn't eat all of this by any stretch, so I was able to still snack on the fruits and veggies at my parents' house.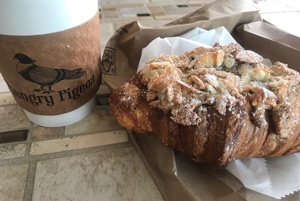 Between my family and friends, we always eat out a ton when I'm home, and for that reason I pick and choose when to indulge and when to order some more typical foods. For example, I went to brunch with one of my best friends and took that opportunity to get this AMAZING almond croissant filled with Bavarian cream and enjoyed every last second of it. But when we went out for a quick lunch at a local chain, I stuck with salmon, rice, and veggies. It was still delicious, but helped me get those veggies in.
And just as I settled in, it was time to drive back to Pittsburgh! Because I didn't have a ton of time to prep food, I relied on some of my favorite convenience options, salad in a bag and pre-cooked chicken slices. Take a big container and mix it all when you're hungry for an easy, healthy meal.
And finally, there is one rest stop indulgence I like to make room for. This one normally comes as a surprise, but no regrets: it's Pizza Hut breadsticks, and yes, they were 100000% worth it.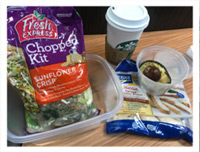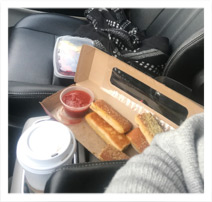 Read More
---