Blog
Meal of the Week- Alexa's Potatoes
posted on April 3, 2019
---
by Alexa Ferri
Alexa's Super Interesting Meal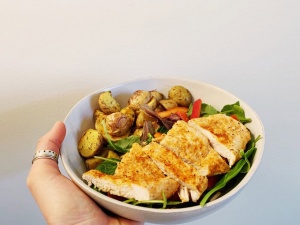 Ok, this is not a crazy elaborate meal, but it has been my staple for several weeks. If you walk in during lunch time you will find me guzzling this down at the front desk. Lindsey also loves when I microwave it during her fasting hours…
BUT it is lovely and here are a few reasons why this is my go-to: it is quick and easy to prepare. Check. I eat it for lunch and it fills me up (difficult to accomplish). Check. Potatoes are a great "faster" digesting carbohydrate for my post-training meal. Check. And I love potatoes. Check.
Ingredients:
-4.5oz Chicken Breast
-200 grams Honey Gold Potatoes
-30 grams Spinach
-40-50 grams Bell Peppers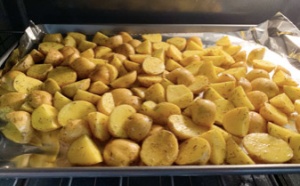 The potatoes are actually what makes this. Chicken, spinach, and peppers are great, but the potatoes are delightful. Ok, how to make the potatoes:
Grab a bowl, cut the baby honey gold potatoes in half.

Pour in some avocado oil

Season with sea salt, pepper, garlic powder, thyme, and that is all.

Bake at 350 degrees for 30 minutes.

Broil for 8-10 minutes

Done. Simple. How I like to live.
Read More
---