Blog
Meal of the Week – ft. Alexa needs to eat more micros
posted on August 28, 2019
---
Hello, again. Maybe you have noticed from previous food blogs or maybe it's not at all apparent, but I don't eat a huge variety of vegetables. My daily staples are spinach, arugula, lettuce, and pickles (a 3 month crave, can't stop). My other foods consist of potatoes, oatmeal, sweet potatoes, chicken, fish, and strawberries. Sure, these are great foods, seem "healthy", and absolutely do the trick in providing the energy for my training (a main contributing factor of why I eat those foods). However, I am not getting enough micronutrients… oh yes, all of the important minerals and vitamins we need to function. SO! I have this micronutrient heavy salad and I will share the details below!
What you need:
Lentils
Kalamata Olives
Kumquats
Cumin roasted cauliflower
Broccoli sprouts (high in Sulfloraphane – powerful antioxidant and for cellular function)
Pickled cabbage
Shredded kale
Mixed greens
2 Tbsp. Balsamic Vinegar
1 Tbsp. Olive oil
5 grams of minced ginger
Steel City Salt Co. Black Truffle Sea Salt
Pepper
Drain and rinse lentils, kalamata olives, and kumquats. Rinse cauliflower, chop to desired size, and throw in medium size bowl. Pour avocado oil on cauliflower. Sprinkle with cumin, curry powder, and sea salt. Lay out on pan and broil for 15-20 minutes.
In your obnoxiously large salad bowl, throw in mixed greens, shredded kale, broccoli sprouts, pickled cabbage, lentils, and kalamata olives. Slice kumquats in half and throw in.
Check on cauliflower, let it cool down and add!
Dressing is a mix of balsamic vinegar, minced ginger, olive oil, Steel City Salt Co. black truffle sea salt and pepper.
Add desired protein source!
Feel micronutrient-ated!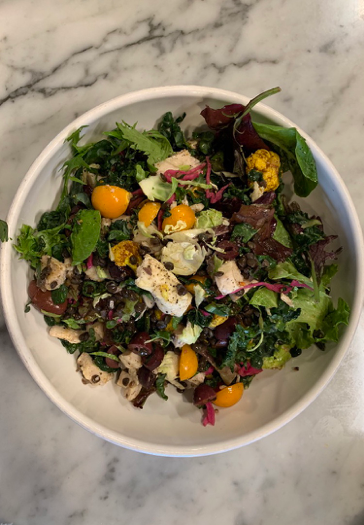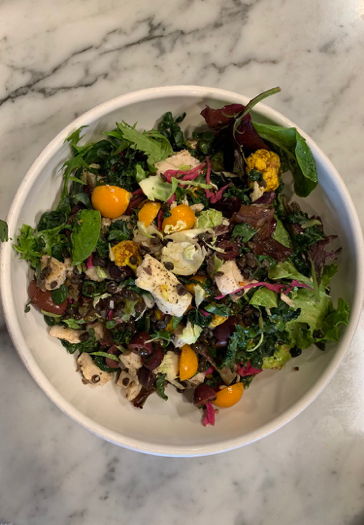 Read More
---