Meal of the Week – Lindsey's Berry Protein Smoothie
posted on July 31, 2019
---
Lindsey's Berry Protein Smoothie
I've been training hard and frequently this summer, and with my fall goals, that's not going to change anytime soon. With increased activity comes a need for increased calories, and over the last few weeks, I've been falling short.
Normally lots of running increases a person's appetite, but for me it seems to have the opposite effect. There are probably some other factors, but when it comes down to it, I really just need to eat more. 
On really intense training days (aka when my appetite is lowest but caloric need highest), I add in a smoothie with some protein in it. If you're having a hard time getting food in, drinking it is a great hack. It doesn't register as "filling" in the same way as a meal you need to chew. 
My normal smoothie is full of greens, pineapple, mango, and banana (it tastes like a pina colada) but this morning I was fresh out of tropical frozen fruit. Instead, I went with a childhood favorite – a triple berry smoothie.
Here's what we're working with: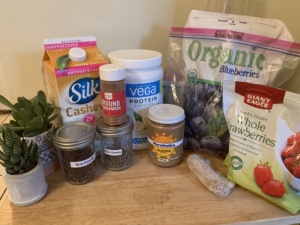 I really just estimate amounts, but I have been tracking my food intake for the past few weeks as I adjust to eating more, so today, I measured roughly:
Ingredients:
1 Scoop Vega Vanilla Protein + Greens (I'd use whey protein if I could, it doesn't sit well)
3-5 big frozen strawberries
1 small handful frozen blueberries
1 tablespoon Almond Butter (for healthy fats and deliciousness)
Dash of cinnamon
Sprinkle in some chia seeds (more on this later)
Teaspoon of Acai powder (for my third berry type, for extra antioxidants, but mostly for color)
4 oz unsweetened nut milk (cashew here)
8 oz cold water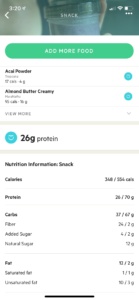 How to:
Seriously, just throw it all in a blender and gooooo.
The macros:
350 calories
26g of protein
37g of carbohydrate
12g of fat
Some tips:
I use a relatively small amount of nut milk because the protein powder already lends a pretty milky, creamy flavor. Overdoing the milk makes it taste too "heavy."
If you can, let it sit for a little while. That way, the chia seeds soak up some of the liquid and reach their cool, chewy texture. Otherwise, they're just a little crunchy.
The Acai powder is super extra (I went through an antioxidant powder hoarding phase). Regular blueberries are plenty. I really just like the color it lends.
I'll slurp this up right after finishing up some interval training tonight (and I can't wait). My body will need the protein and carbs the most at that point!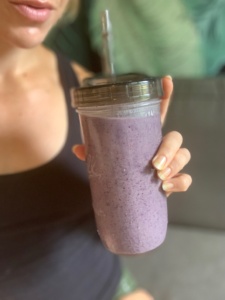 Read More
---