Blog
Meal of the Week – Mariah's Cilantro Lime Salmon
posted on October 16, 2019
---
Can you say superfood?! Salmon has so many health benefits as well as being uber tasty! It's probably top of my favorite sea meals. Going forward, I'm trying to incorporate new dishes into my prep besides just chicken and rice. I want to add some flavor to my routine so let's see how these couple weeks go, and I'll keep you updated!
So back to what you came for. Salmon is a good source of potassium, balancing blood pressure, and your immune system. It also is an anti-inflammatory so helping with recovery thanks to its Omega-3s for all my lifting friends.
With this main dish, I would pair it with 1 cup of 5 min white rice I usually squeeze lime juice and garlic powder to give it some flavor as well as 1 cup of steamed brussel sprouts. I just buy mine from Aldis usually cost around $1.27 for a bag. Their 5min white rice usually comes out to be $1.70.
So delicious! And guess what it takes only 20 mins for the whole meal, so if you're looking for a quick dish this week this one is a goooo!
Prep time: 5 mins
Cook time: 10 mins
Total time: 15 mins
Serving: 6
Ingredients:
2 tbs oil
1 lime (juice/zest)
2tbs cilantro, coarsely chopped
½ jalapeno, coarsely chopped
1 clove garlic, coarsely chopped (I used 1tbsp of minced garlic)
2 lb salmon fillet
Directions:
Puree the oil, lime, juice, and zest, cilantro, jalapeno and garlic in a food processor until smooth.
Place the salmon on foil on a baking sheet, pat dry, season with salt and pepper, spread on the cilantro and lime mixture and bake in a preheated 400F/200C oven (or barbecue) until just cooked, about 10-15 minutes.
Nutrition:
245 Cals
14g fat
1.5 g carbs
30 g protein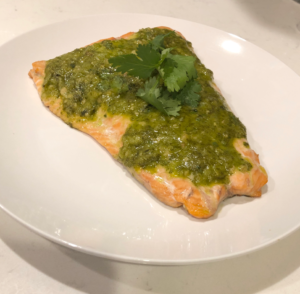 Read More
---