posted on October 25, 2017
---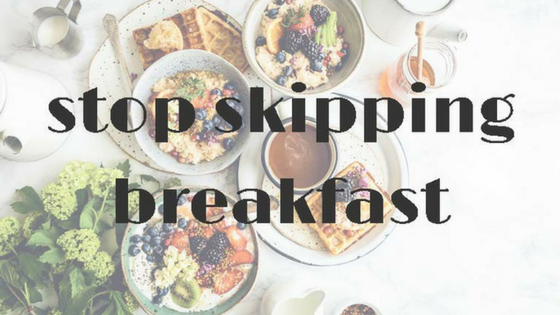 With a busy lifestyle, early meetings, or morning workouts, its easy to opt for just coffee or skip breakfast entirely. Often referred to as the most important meal of the day, eating breakfast can have a noticeable impact on your performance throughout your day.
Mental Performance
Because breakfast helps to restore and boost glucose—a carbohydrate essential to healthy brain function—eating in the morning can contribute to better memory and concentration levels, as well as improve your mood and lower your stress levels.
Weight Loss & Management
When you go to sleep at night, your metabolism naturally slows; one of the best ways to jumpstart your metabolism and get things kicking again is by eating breakfast. If you skip breakfast, not only do you put off starting up your metabolism, but you also risk overeating later in the day.
I know what you're thinking, that's great, but I still don't have time for breakfast, or at least not a healthy one. So, we've come up with some quick and easy solutions to get you on track before you start your day!
Overnight Oats
Unlike regular oatmeal, overnight oats use rolled oats and liquid, followed by a resting period in the fridge, to create a porridge-like alternative. No need to waste time cooking on the stove or in the microwave; instead, simply prep the night before, leave in the fridge overnight, and wake up to a delicious, healthy, ready-to-go breakfast. Try these 8 classic recipes to get started on your new favorite oatmeal!
Premade Smoothie Packs
We all love smoothies, but no one wants to spend their morning gathering ingredients, measuring yogurt, or chopping fruit. Smoothie packs are the best way to prep ahead and make later. Spend the weekend before chopping and packing your ingredients, freeze in plastic bags or jars—when you're ready, simply dump into the blender with your liquid of choice, and off you go! Not only are smoothies easy to pack with fruit for antioxidants and other essential vitamins, but they are also an easy way to sneak in vegetables. Try this yummy Mango Ginger recipe for when you need to break away from your usual berry and banana combination!
Spinach and Prosciutto Frittata Muffins
 Who says weekday breakfasts have to be boring? These protein packed frittata muffins require just six ingredients and can be prepped and cooked in under an hour. Save yourself even more time and cook them on Sunday night to enjoy all week long!
Breakfast isn't always easy to pull together most mornings when we're busy, but try these super quick and easy recipes to jumpstart your day and your fitness!
Read More
---