Three takeaways from the most physically challenging thing I've ever done.
posted on December 6, 2019
---
The weekend before Thanksgiving, I competed in both a powerlifting meet and my first full marathon. It's a goal that had been rattling around in my head for a couple years, but one that felt both completely ridiculous and completely out of reach. As luck would have it, I found two events happening close to where I grew up, on the best possible weekend, that worked together perfectly. I wasn't about to pass that up, so in August I started training like crazy (you can see some of those training logs in the Union Fitness blog archive). That prep time was whirlwind, but it all came together two weeks ago.
Ultimately, I finished the meet with a 280(lb) squat, a 175 bench, and a 325 deadlift, setting a significant bodyweight personal best. I finished my first marathon in 3:50:24, which was my reach goal. I sobbed at the finish line. It was the hardest athletic event I'd ever done. 
Here are some takeaways:
Training and Competition will always be different
Meet day wasn't perfect. It never is. Equipment is different, the day is almost always long, you're probably operating on too little sleep. These are things to expect and to plan for. 
I had two big hurdles at the meet. The first, I NEEDED to eat a lot that day so I'd be fueled for the run, but it was a struggle from the moment I woke up. My meet day jitters are intense, and I didn't plan well enough for that.
My second hurdle was not considering the toll driving out to York (and the length of meet day) would take on my hips. By the time we started deadlifting, I was feeling shot. I'd pulled 350 in the gym and it moved pretty well, so when I asked Casey to put 345 as my second, I wasn't worried. The bar we were using was a little thicker and stiffer then I'd gotten accustomed to, and that combined with my fatigue meant it was not budging from the floor. I did everything I could, including gritting my teeth through a nasty RPR reset, but the iron bested me that time.
How do you combat that? Get your head right. Expect the unexpected, as cliche as that is. I went to that meet to do the very best that I could on that day, and then turn around and do the very best I could at another event the next day. And I did. I brought out my intensity going up to that bar on my third attempt, but as soon as I missed it, I was grateful for the opportunity, conscious of the mistakes I made, and ready to move to the next step.
As for the marathon? I was PROUD of my prep. I worked up to a 21 mile long run and it felt fantastic. In an attempt to simulate what the full meet+marathon weekend would feel like, I was doing my long runs the day after taking heavy singles in all three lifts. I was proud. Too proud maybe. Because when I woke up at 4:30am on race day, my hips HURT. More than they ever had in training. 
My appetite was still low but I forced some carbs down, walked outside on a cold rainy morning in downtown Philadelphia, and got on the shuttle to the start line.
I made another critical mistake here. I arrived about 90 minutes before gun time to a cold, muddy, pitch-black start. Because of the meet, I didn't attend packet pick-up the day before (Philly mails it to you, super cool), so I wasn't really sure where things were. I figured out gear check, then realized I needed to use the bathroom before the race started. I had about an hour at that point, so I got in line. I'll cut the drama and just say I was still in line an hour later when the gun went off and the elites started. I was in the third big corral with all the predicted 4 hour finishers, which meant I had about 10 minutes to get out there if I wanted to start with that group and the pacer. Missed it. Still in line. 
I got out just as the last corral was leaving. I didn't warm-up much at all, my feet were frozen, I had a lot of slower runners to zig-zag though, and I was obviously a little freaked out since I'd almost missed the start! Rookie mistakes. Next time, I'll arrive a whoooole lot earlier and spend more time figuring out the layout of the start. 
Pain is temporary
The combination of the skipped warm-up, my frozen feet, and my already fatigued hips meant that my pain point in this race came a lot earlier than it normally did on training runs. The first 10 miles were great, you run around the city, there are tons of people out cheering. Then you cross a bridge and run down Kelly Drive, along the river, all the way out to Manayunk. Runners then turn around and finish the same way they went out. I knew about this. I thought I'd prepared by always running looped courses here in training. 
My hip pain got more severe around mile 16. I knew I had 10 miles to go, and we were just getting to the out-and-back portion of the race. I passed mile 17 as the faster runners were coming back passing mile 23. My mind started reeling at this point, seeing the pain on their faces, knowing how much I had left, feeling my own pain getting worse with every stride. 
I am a stubborn person, I HATE quitting things, but those thoughts came up several times in the last 10 miles. I was maintaining my goal pace, but the pain kept coming. Soon my left knee started to throb. I could feel it swelling. My right hip flexor was locking up, so my gait was getting pretty funky. I was struggling with getting nutrition down as I moved, but luckily had no GI issues. 
I'd never experienced this level of pain in an athletic event. Someone was holding a sign that said something like "You paid a lot of money to feel like this" and that really hit home. I knew I wasn't going to stop unless I collapsed, and I was able to hold it together to the finish. I even picked up it as we passed mile 26.
So what does that say? I was in so much pain for 10 miles that I wasn't sure I'd be able to go on, but then in that last 0.2 I found more speed. It's all mental. I made a choice over and over with each step to continue, to not give up on this ridiculous dream I had to finish a marathon, to not let myself down. And it came together in that final stretch. The pain was temporary. The intense discomfort was temporary. And we are capable of withstanding a lot more than we think we can when we ask that of ourselves.
Pushing to your limits yields personal growth
I feel very different after completing these events. It's hard to put a finger on it, but I feel like my ability to accept what IS has gotten better. I've always struggled to let things go. I'm a perfectionist and deal with a lot of unwanted anxiety, so I'd get caught up in an idea of how things should be and could never let that go in the face of reality.
For whatever reason, it seems a lot easier now. If I were to guess, I'd say it's because I got some quality practice in with these events. I missed my third squat, not because I wasn't strong enough, but because I didn't dial in my technique. I missed my last two deadlifts even though I knew it was a weight I could handle, causing me to miss my "A" goal of an 800lb total. I experienced the sadness and disappointment that comes with not meeting a goal, and then I moved on. I can think of tons of things I'll do better next time, but I'm not still dwelling on those missed lifts. 
And the race. Doing something that long and that hard teaches you, again, that pain is temporary. That you can withstand that pain, that discomfort, for as long as you need to to get where you want to go. I can't turn that off now. The discomfort of every day stress is real – having difficult conversations, enduring people or situations that make you uncomfortable, the non-stop grind of work or school or family or all of it. But it's endurable. And you truly learn that when you push to your physical limits. See what you're capable of. It applies everywhere.
I'm still working through the emotional changes I've felt since finishing that race, but suffice it to say, it was all worth it. And I'll be doing it again (but not for at least a year).
Bonus: These aren't individual sports
I want to thank everyone who followed me during training, who sent words of encouragement and cheers via the RaceJoy app (I heard them all!). I want to thank all of the people at the Philly marathon who helped me get on the course on time, who showed me where things were, that were excited for me to do my first full. I didn't know a single person there but felt cared for the entire time. I am so grateful that I got to see my parents at the finish, desperately trying to get photos, unsure of why I was crying so much. 
I especially want to thank the amazing people who drove all the way out to York to watch me compete. To say I was floored would be an understatement. It meant the world to me to have you all there. Diane, Alex, Sara, Mariah, Ang, Cayt, you made my weekend. I love you all.
And finally, my best friend, driver, handler, force-feeder, shoulder to cry on. I thought I could do this all on my own, and maybe I could have, but I'm glad I didn't have to. Thank you.
The people I've met through these sports are some of the best I've ever known. Nothing compares to our community. If you're reading this thinking about attempting some athletic feat, be it a 5k, and strongman competition, or an Ironman – do it. You'll meet your family, you'll test yourself, you're learn and grow. All the pain and struggle is worth it.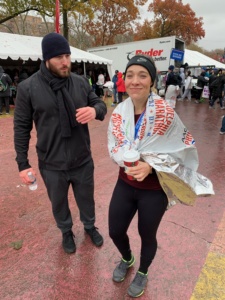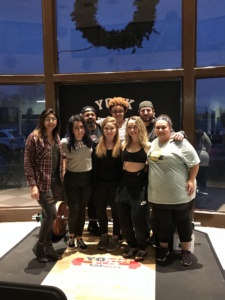 Read More
---