posted on January 4, 2019
---
Our secret is officially out– there's no hiding the massive 127lb additions to the Cardio Lab. For the New Year we decided to ditch the spin bikes in favor of Rogue's Echo bike, which is an air bike or sometimes called a fan bike. So what's so special about them? First and most importantly, these bikes are a special kind of terrible and we all know by now there's nothing I love more than a special kind of terrible. It uses wind resistance via the large fan in the front so the harder you work, the more it works you. The push/pull handles incorporate your chest, back, arms & abs– something the spin bikes weren't capable of doing. It's great for HIIT, metabolic conditioning and forging mental toughness (as if Cardio Lab needed more of that anyway!) So here's your guide to using these fantastic aerobic beasts.
The Monitor:
Thankfully the monitor is super user friendly. You simply press the green START button and all your stats are on one screen. It tracks distance, calories, watts, heart rate & time without having to hit multiple buttons to scan through them.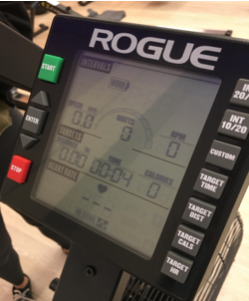 On the right side there are options for timed intervals (like the old trusty Tabata :20 sprint/:10 rest x 8 rounds). There's also options to set workouts based on time, distance and calories.
To reset the stats on the screen, press the red STOP button and then the START button to begin a new session.
Adjusting the seat:
The seat adjusts up and down and also front to back. To adjust the seat higher or lower, twist the knob below to the left and pull outwards.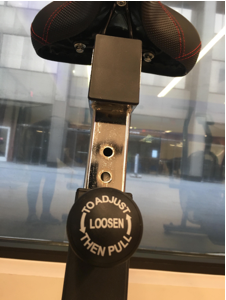 Once the knob is pulled out towards you, grab the seat to pull higher or lower until it clicks into one of the holes. Remember to retighten the knob or you risk the seat crashing down mid sprint.
To adjust the seat front to back, use the knob towards the back of the bike, underneath the seat. In the same fashion, glide the seat forward or backwards and retighten the knob.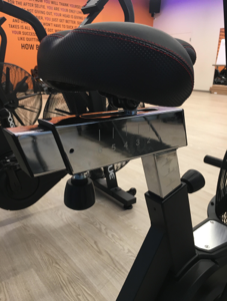 Test it out:
Skeptical or curious about the power/torture of these machines? Test out this simple workout:
10 rounds of :30 sprint/ :30 rest.
Once you get yourself peeled off the floor after this, come find me and let me know how you faired.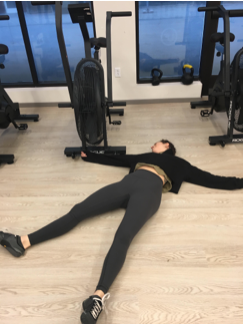 Happy air biking everyone!
Read More
---