posted on January 19, 2017
---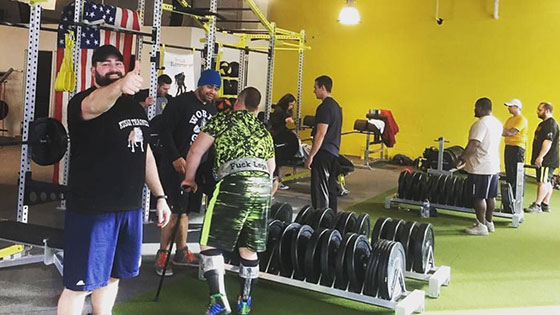 Wounded Warrior Project
At Union Fitness, our primary goal is to build a community where our members are passionate about fitness, but we also aim to foster a mindset of giving back to the community outside of our walls. We were fortunate enough to host our first (hopefully of many) events with the Wounded Warrior Project.
First, I'd like to thank Luke Koval for reaching out to set the event up with us. Second, I'm honored that we had about 10 veterans show up for the event. Some were experienced lifters, others hadn't touched a weight since leaving the service or since their injury, and others had never done any strength training. It was a challenge for our staff, but a blessing as well. If it were easier to get stronger… if the weights lifted themselves… we would never learn any lessons from pushing ourselves and digging deeper to find out what we're really made of. Well the same goes for coaching. If you explained it once and your members got it, then how would you ever get better. Fitness in general is one big puzzle. We're just trying to put the pieces, very individualized pieces, together.
The second blessing was the fact that due to these veterans' sacrifices, we were able to spend a peaceful afternoon together going over training, recovery, rehab, and techniques for mental clarity. Lifting, running, spin, yoga, or whatever you gravitate towards is as much or more for your mental health than it is physical.
To summarize, everyone started to filter in around 1pm. As I said, we had ten veterans, but about 20 people in total. Some girlfriends joined us as well as other training partners and friends for moral support. Our coaching staff gave a brief insight into who we are, what we do, and our philosophies at Union Fitness. Then we flipped the script and had the veterans share with us whatever they were comfortable with- training experience, branch, reasons they were here, injuries, goals, etc. It can be a therapeutic experience to discuss some of these openly, but we have to understand that in order to support these men and women sometimes, especially early in their recovery, they don't want to share much if anything at all.
We let them guide the afternoon, and they really just wanted to get some input on their strength training and technique, so we moved on to coaching the squat, bench, and deadlift. Even some of the guys that had never squatted before were looking really comfortable under the bar after about a half hour of coaching. There were a couple that squatted over 400lbs, a handful that benched over 300, and some really good looking deadlifts too!
Afterward everyone chowed down on some food that the Penn Brewery donated for the event. It's nice when the local community supports a new business, all for the sake of giving back to our troops. Our next event is already scheduled for January 31st. Stay tuned for updates! And email us at join@unionfitness.com for any details or if you'd like to make any donations for our veterans!
Read More
---