Banana Bread: A Little Humbling + My 5 Commitments
posted on March 20, 2020
---
Good morning Union Fam,
You'll probably see a mix between fitness and life content from me going forward because we happen to be in such a weird time in our lives. I might tell you some stories, talk about horrible baking experiences, or maybe give you some ideas for workouts. Whatever it is, it'll always be full-out transparency and honesty from my mouth.
It's been a rough week to say the least (can I get an Amen?), and yesterday I was in such a funk that I did two things: I downloaded my graphic design programs again and baked banana bread, two things that I haven't had the time to do because life gets in the way.
My days were always a little jam packed before this pandemic made us all slow down. There were a lot of things I just didn't have time for anymore and some things took precedent over others. I've always been a very creative person. I have a minor in graphic design and I bake well. It's just fun to make really tasty things. I'm trying to look at this trying time as positively as I can and bring things back into my life that I once loved.
Now, a quick break thanks to our sponsor of this post—banana bread.
I'm by no means a baker, so like any normal person, I googled a recipe and went to work. To be fair, I actually took it out 20 minutes too early and cut into it only to realize that I didn't cook it long enough. So back in the oven it went.
Recipe:
1 stick (1/2 cup) butter
3 ripe bananas
2 eggs
1 teaspoon of vanilla extract
2 cups all purpose flour
1 cup granulated sugar
1 teaspoon baking soda
1.2 teaspoon salt
1/2 teaspoon cinnamon
2 small handfuls of chocolate chips (optional)
I cooked the banana bread at 350 degrees, combined wet and dry ingredients separately, and then in one bowl, mixed it altogether with two small handfuls of chocolate chips.
Below are the ingredients that I had around the house: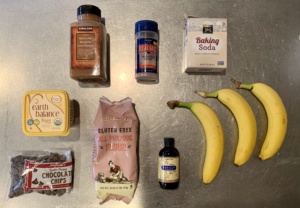 Now back to our regularly scheduled blog post. Shout out to the banana bread.
I know I'm not the only one worried about working out, but in the grand scheme of things, this pandemic has humbled me into realizing what is most important in this life. I do, however, encourage you to move 30 minutes to an hour a day, and if you want to keep up your normally scheduled rest day, by all means, do so. The best thing we can do for ourselves is to stay on a structured routine, do things we enjoy, and be kind to ourselves and bodies.
I won't sit here and write all about what I think you should do because that's not why you read the things I write about to begin with. Instead, I'll tell you about what I'm going to commit to. Here are five things I'm promising to myself:
Move my body once a day, even on rest days.
Eat as well as I can during this time and fuel properly (snack breaks approved).
Get back into graphic design and bring back my entire creative vibe.
Keep myself motivated by contributing quality content for my UF fam.
Be kind to myself with whatever that entails.
Now, what are your five things? Post them on your IG story and tag us. We want to see them.
Lastly, before I end this post, this all goes without saying, but if anyone out there needs anything from me or any other Union Fitness staff member, please reach out. We are here for you every single day regardless of what is going on. We care about you and love you all.
The most humbling thing about all this is realizing that it's the people in my life who mean more to me than the goals I was in the middle of chasing.
Much love,
J
Read More
---