posted on April 19, 2017
---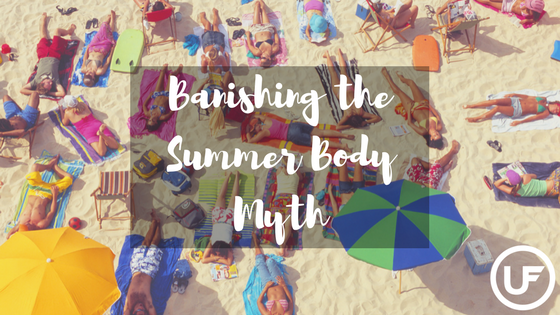 It's here, y'all!!!
It's something we've all been anxiously waiting for through months, treacherously cold, snowy, and blustery months. Yeah, it did technically snow last week but SPRING IS OFFICIALLY HERE. And Spring means Summer is basically here too. And Summer means bathing suits, beaches, the Bucco's, beers & barbecues!
Summer can also bring the harsh realization that maaaaaaybe you've put on a few winter hibernation pounds. With that realization begins the Internet splurging, looking for ideas and last ditch efforts on how to achieve that ideal "Summer Bod". We all know the image that comes to mind too— gorgeously tan with chiseled abs and a rock hard, toned body, glistening with summer dew morning mist.
Let me be the first to say it— We MUST banish this perfect "Summer Bod" myth! This unrealistic expectation of ourselves to somehow transform into an Instagram Fitness Model/God/Goddess overnight should be forever banned! Instead, I propose to shoot for a healthy lifestyle that you can maintain throughout the year!
Here are 3 easy ways to help you banish the Summer Bod myth:
1. Look in the mirror and say to yourself, "I accept and love my body".
Don't skip this step! Self-acceptance is the best & fastest route to a better you. A healthy life starts with a healthy mind and attitude. You'll be amazed at how much better you'll feel once you begin to accept yourself just as you are.
2. Set year-round realistic goals and aspirations for yourself.
Whether it's to run a local 5K, be able to squat your bodyweight or to simply be able to function through day to day routines, set a goal (and a reward) that is both achievable and realistic. And don't feel the need to stop at just one goal, keep a list of things you want to accomplish and a realistic time frame to get them done.
3. Find a way to make fitness fun!
Not everyone loves to snatch a barbell over their heads. Not everyone loves to run. Not everyone loves to spin. And that's ok! Find something you do love, something that makes you feel accomplished or something that fills you with joy (or at least perhaps the least amount of dread!). Haven't found it yet? Just keep searching, I promise there's something out there with your name on it.
Here at Union Fitness, we know living a healthy lifestyle year-round isn't easy! So we are here for you step by step, class by class, meal by meal, and goal by goal.
Read More
---