How to Maximize Your Treadmill Workout
posted on October 31, 2017
---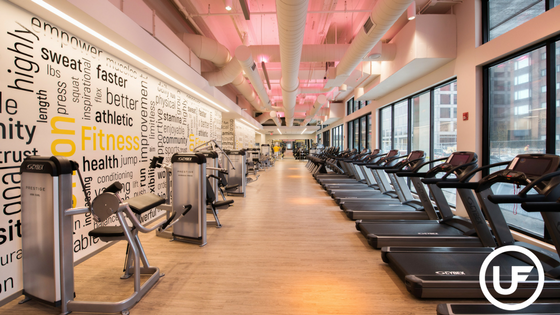 If there's one piece of workout equipment almost everyone is comfortable with, it's the treadmill. It seems like there's always a treadmill open at the gym and it's a really great way to get in a quick workout. However, it can be easy to fall into a treadmill rut. If every afternoon you come in and walk for 30 minutes while watching TV, it can be easy to stop really challenging yourself while still feeling like you got something done. We don't want you to fall into that trap! We've come up with a bunch of ways to change up your treadmill workout, with options for beginners and more advanced gym-goers.
If you love your treadmill walking routine, consider adding a few hills to your daily routine. Every 3 minutes, crank that incline up to a 5 or 6 and maintain your pace for at least 30 seconds. That will give you plenty of time to cool down and reset before taking on the hill again. This is a great way to get your heart rate up a little bit higher without adding running.
If you're ready to take on some jogging, the treadmill is a great tool to get started! Like the hill workout above, every 3 minutes you'll instead increase your pace to a slow jog for 30 seconds, then bring it back down until the next 3 minute marker. Be sure to warm up thoroughly for this one. As the running intervals get easier, start increasing their duration. Go up to 45 seconds for a week or two, then a full minute, then 90 seconds. Eventually you'll be running for the whole duration and you'll be ready for one of the next few workouts!
Already an experienced treadmill runner? Add some sprints.
If you get your steady state work in on the treadmill but want to change it up a little bit, try treadmill sprints. After warming up, set the treadmill to a very fast pace for you. Every minute on the minute, you'll hop on to sprint for 15-20 seconds. Jump off and rest for the duration of that minute. Start with just 4 minutes once per week. Increase by 1 minute every other week until you hit a full 10 minute workout.
Still need a challenge? Try pyramids.
If you're a runner looking for a longer treadmill workout that really maximizes results in a limited amount of time, try a pyramid workout. We use these a lot in our Fatbell classes, but it can easily be applied to running. You can choose to build your pyramid with speed or with incline, but don't start with both! You'll get in a good, easy warm-up, then every minute on the minute for 10 minutes, you'll increase your speed or incline by 2. Once you hit the top of that pyramid, we're going to work right back down in the same exact way, taking the incline or speed down by 2 each minute. Get a little cool down in at the end and you've done a really challenging workout in just 30 minutes!
BONUS: Get a friend to surprise you!
If you really want to go all out, get a friend on the treadmill next to you and have them adjust your speed or incline (whichever set of controls is closer to them) without you knowing! Cover up your screen and enjoy.
Read More
---