posted on June 8, 2018
---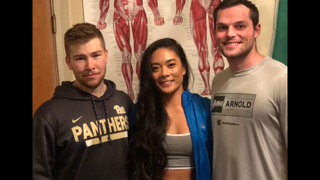 Our evening members have probably noticed three little ducklings walking around, shadowing, and being generally awkward in class. Welcome our interns! Connor Hassinger, Alex Pong, and Connor Keenan joined us this summer from Pitt. As a staff, we're all proud of their progress up to this point, and we want to thank you for being patient with them in class.
Lindsey asked them to write about their internships thus far, with little direction on specifics. Our takeaways:
We learned that they're all good writers- nice work Pitt!
They were a lot more open and honest than we expected.
We appreciate their sense of humor and openness to constructive criticism.
They're actually pretty funny, who knew?
Connor Keenan
So you want to intern at a gym
So you took the time to look into getting an internship at a gym or college strength program, great. Like me you were probably eager to get the chance to be around other like-minded individuals and spend your day in a gym, but what are you actually going to learn? The answer, depends on your attitude and how you look at your situation. You will most likely be given mundane tasks, such as folding towels or greeting guests; this is inevitable and the sooner you disregard your ego, the sooner the real learning can begin. The staff at Union has been pushing my fellow interns and I to learn more and ask more.
I have been interning at Union Fitness in Pittsburgh for about a month and am just starting to scratch the surface. With every passing day that I am here my confidence increases, only to be torn down by people smarter than me (I was told my squat sucks my first day on the job, which I'm grateful for). Being around more knowledgeable individuals has shown me that I have so much more to learn. Just because you know a variety of exercises does not mean you will be a good coach or trainer. You need to have great people skills and communication to effectively direct and coach a client or multiple. Without these you can kiss your full potential goodbye. These skills cannot be learned in a classroom and take time to develop. Now if you have a good mindset and attitude about your internship you'll realize that doing things like, folding towels and greeting members, does have some carry over to coaching. If you cannot do simple tasks, like these, correctly how can someone trust you to take the reins and coach an athlete. So far these are the main takeaways I have compiled:
Do not become complacent
Do not be afraid to ask questions

Most coaches and lifters are very unselfish and will help you, but not unless you ask

Lone wolfs won't make it in this industry
Develop an unreal attention to detail
You're never the smartest person in the room
Get involved!
Enjoy yourself and care about your clients/athletes
Connor Hassinger
The most recent thing I learned was the barbell oriented strength class was called "#powerful" not just "powerful." During this class, I learned countless tips and tricks from CJ, Lindsay, and Ryan for group classes which was very helpful coming from a personal training background. Figuring out how to split everyone up into groups and who will need special attention or an alternate exercise on the fly took some time. Getting to know some of the members of Union Fitness and helping them with anything as small as how many reps to do was a pleasure.
The part of the internship with the least glamour, front desk/towels/etc, ended up being very important. While at the front desk I had unlimited access to articles/videos to research topics I was uncertain about or assigned to. After I finished I could chat with any member of the staff to clarify. The notes section of my phone is now filled with more training article takeaways than passwords. Promise I was typing up important questions or comments and not texting on my phone everyday.
You might think after a morning working at a gym and an afternoon spent at Union Fitness I would be ready to head home. Well you would be wrong because 7 pm is time to train and make use of as many specialty bars, chains, and fatbells I could without getting sidetracked. Having Casey there to yell at us when my head was down or Alex's knees were soft was an extra perk.
Alex Pong
My internship at Union has been a pretty sweet gig so far: helping out with the #powerful and Cardio Lab classes, having discussions about the various articles we read, training in a dope gym with strong-ass people. But the best thing by far about being here is that the people mentoring me actually care. They're willing to help out not only with my training, answering any questions I have and giving me tips whenever they can, but with anything. Their advice ranges from how to use MindBody when I'm up at the front desk (which took wayyyyy too long to figure out), to my mental health (I cried at the gym 3 separate times last week), to yelling at me for my (admittedly very large) water cuts for my meets.
One of the biggest things I've had to work on, and am still working on, is talking to people. Just talking. You know that thing normal people do to communicate with each other? Yeah I'm really bad at that. On my first day, Casey said I was "painfully awkward" … and I mean, he's not wrong… But I've slowly started to find my voice here these past few weeks. Casey told me about how Donnie Thompson turns into "Super D" on the platform – he becomes who he needs to be to get shit done. When I'm here, I don't need to be the same shy person I am most of the time. I can create a different persona, someone louder, someone chattier, someone more outspoken and confident. Don't be fooled, I'm still very awkward and softspoken (except when I have to yell over the music during Cardio Lab), and not super talkative, but I think I'm getting better. And who knows, maybe by the end of the summer you'll have to tell me to shut up because I'm talking too much.
Read More
---