Barbells 101: A lesson in Specialty Bars (Lower edition)
posted on June 13, 2018
---
A few weeks ago we discussed some of the funky looking bars that we have in the Strength Lab. That was all focused on the ones we use for upper body training. With this edition, I'd like to bring to light the bars we use for lower body training, along with some why's and some how's. And as with everything I do, you're going to get my opinion, so filter wisely UF'ers.
To revisit, specialty bars, for the most part, were designed with two purposes in mind:

Maintaining healthy joints while allowing the lifter to continue to train as they normally would.

 

Putting the lifter at a mechanical disadvantage to force the body to adapt and ultimately make progress.
 
There are specialty bars for the squat, bench and deadlift but they all have crossover uses as well. So let's dissect the specialty bars designed for lower body use. In the Strength Lab, they are all designated by ORANGE tape (our all-purpose bars use blue tape for reference).
#1 The two competition specific bars that are most easily recognizable are the Texas Squat Bar and the Mastodon Squat Bar.
Uses: Multiple- Either bar, aside from squats, can be used for benching, or rowing and deadlifting when you want to focus on your grip.
Weight: Texas squat bar- 55lbs (1-1/4" thick), Mastodon 60lbs (1-3/8" thick)
Differences: Certain federations will use one vs. the other mainly out of habit or tradition. Example- the USAPL will use a Texas Power Bar (blue in our gym) for squats. USPA will use a Texas Squat Bar. And RPS will use a Mastodon Bar. The Texas Squat Bar will be more 'whippy' under heavy loads than a Mastodon bar, which is the reason for the difference in thickness.
Everyone has a different preference here. Some of our females love squatting with the Mastodon bar, but conventional wisdom will tell you that it should be harder for them. I like the Texas Squat Bar because it sits more comfortably on my back, but what do I know?
#2 Duffalo bar- traditionally a "Buffalo bar," but this was designed by Chris Duffin and was renamed the Duffalo bar. Think of it as a bent Texas Squat Bar.

Uses: Multiple- Primarily this bar is used for squats to alleviate shoulder pain and bicep impingement. Put plainly, if you have limited shoulder mobility, this is a great bar for you to squat with. It's also a better bar to use for front squats because it sits more comfortably in the front rack position.
You can also bench with this bar. It provides a longer range of motion which can be a beneficial assistance movement to aid your bench progress. Personally, I don't like this idea with a bar- it's always a risk vs reward scenario. If you want a longer range of motion in the bench press, my recommendation is to do so with dumbbells or fatbells because it's safer for the shoulder. Supposedly, it will also help with technique- the bend in the bar can force lat engagement which is necessary in all forms of the bench press. I haven't used it enough myself to back this claim.
Weight: 55lbs
#3 Cambered bar- ("Arched" or bent bar)- this bar is from Westside Barbell.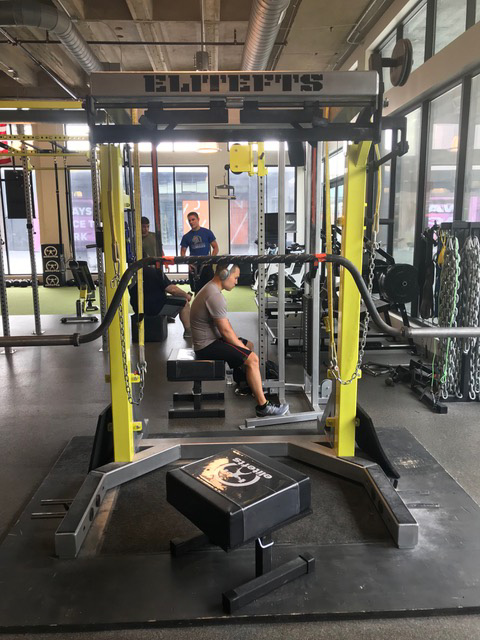 Uses: Primarily this bar is used for squats, and will provide similar relief as the Duffalo bar for bicep pain and shoulder impingement. The added bonus- this bar will force you to stabilize harder because the weights tend to swing from front to back if your squat isn't PERFECT, which face it, almost nobody's is.
I've also used this bar, at times, for triceps assistance work like skull crushers. The set up is a bit of a pain, but it's worth it.
Weight: 65lbs, 14" camber
#4 Safety Squat Bar or the "SS Yoke Bar" aka The King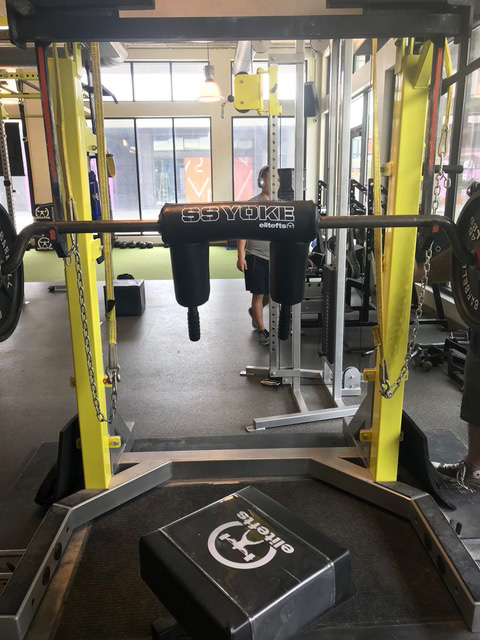 Uses: This is my favorite bar of all time. Why? Because no matter how good of a squatter you are, this bar will make you better. Plus it saves you shoulders. The SSB sits higher on your back, lengthening your spine aka putting the bar further away from your power source- your hips. Flash back to high school physics- this bar makes your leverages worse meaning you have to put more power into moving the same load. The added bonus- it doesn't put any stress on your shoulders. So you can improve your squat while saving your bench, or if you're recovering from a shoulder injury, you can still work on your lower body.
Secondary uses: Good mornings, lunges, partial good mornings or arches
Weight: 65lbs
Read More
---