Blog
posted on September 11, 2019
---
During our "fake fall," my cravings for warm, comforting things came back full swing – weighted blankets, sleeping in, pumpkin spice everything, and naturally, soup.
It's 90 degrees out right now, so that's a bummer, but I'm still on the soup train. I'm working fairly late, so by the time I get home and take care of BB, I have to get food in pretty quickly in order to get to bed on time. For a long time, that meant eating a prepared salad and calling it a night, but I've been making a little more effort as of late. Here's a soup option that won't take more than 15-30 minutes (with a little prep). It does include a few special ingredients, but I'll include some substitutions that you're more likely to have on hand.
What You'll Need:
1 pack Brown Rice and Millet Ramen (from Costco, but use any ramen pack, no seasoning)
Avocado oil (or your choice cooking oil)
Veggies of your choosing, sliced thinly (and lots of them)

I used Napa cabbage, carrot, red bell pepper, snow peas, and a ton of shiitake mushrooms

4-8oz of prepped proteins of your choosing

I normally use chicken thighs that I've pre-prepped. Today I did 2oz of those, 3 oz. shrimp, and 3oz pre-cubed tofu (it was a hard training day, needed the calories and protein)

Lime Juice
Fish Sauce (or soy if you don't have it on. you, just go light)
Sesame oil
8oz chicken bone broth (I love this one with turmeric)
Water to taste
Herbs and toppings of your choice (I did a huge handful of Thai basil I was gifted and half an avocado)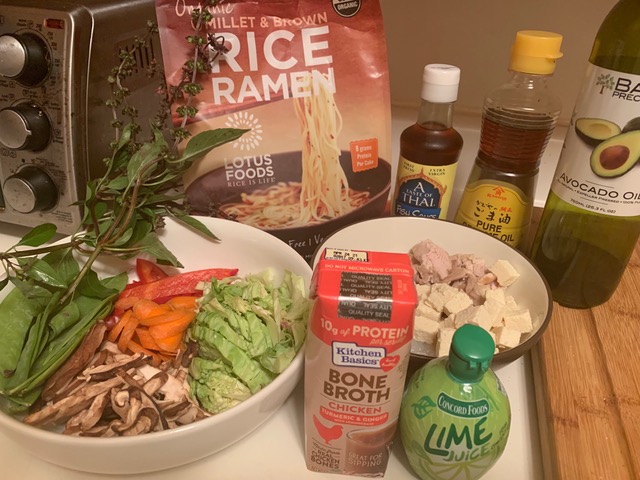 To Make:
Slice and dice your veggies, set aside in a bowl (I like to group my slower cooking veggies in one bowl and my faster cooking veggies in another).
Prepare your protein(s). I shelled my shrimp and set aside, then sliced up my cooked chicken and set it aside with the cubed tofu.
Bowl the ramen according to the packaging in a small pot. When it's finished, drain and set aside.
While the ramen is cooking, start cooking your protein and veggies. In a medium-large pot set to medium heat, warm the avocado oil. When it's hot, add your protein if cooking from raw. If you're using cooked protein, go right in with the slow cooking veggies. Season with salt, throw a lid on it, let them cook.
Once they've started to brown, add your slower cooking veggies and your proteins. Season with salt again. I cover and make sure to shake them around a bit.
By this point, your ramen is ready to go. When the veggies are cooked to your desired done-ness (I like them pretty crunchy, so it's quick in my kitchen), throw in your noodles.
Immediately top with your chicken bone broth and enough water to reach your desired soup consistency.
Season with fish oil (a few splashes is plenty), lime juice, and a bit of sesame oil.
Let everything simmer together for 3-5 minutes.
Top with your herbs/toppings of choice, throw it in a bowl and go to town.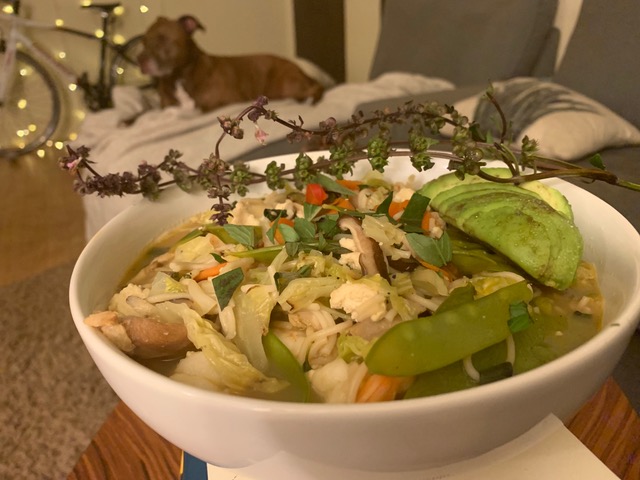 This particular bowl came out to 750cals, 62g protein, 69g carbs, and 23g fat. Right on target for me, and totally customizable for you!
Read More
---