Lindsey's September Training Log
posted on September 13, 2019
---
I had a rough start this month. Case in point: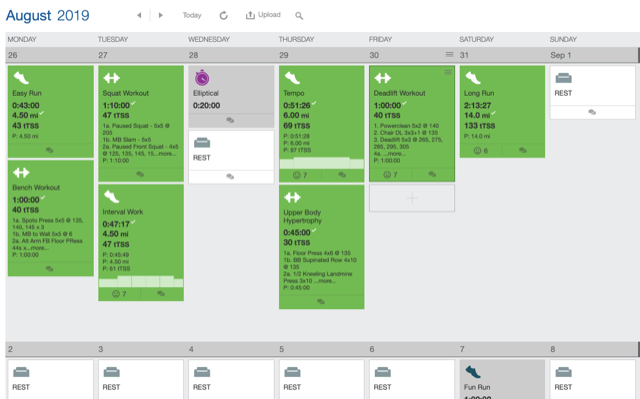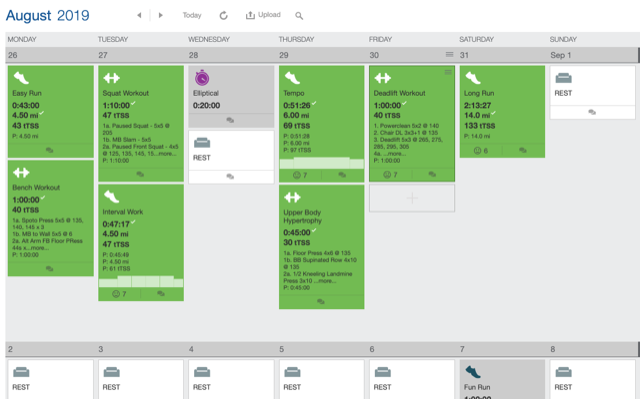 August ended with a really solid 14 miler. Felt great at the end, went into Sunday feeling great. By Monday, I started feeling pretty off. It was Labor Day and I was really looking forward to getting my bench workout and a quick run in on Sunday night, but when I woke up that morning, I was dragging. All motivation to train, or really to do ANYTHING, was gone. Normally this is a feeling I can push through, we all feel burnt out sometimes, but it was happening that day. I had a Labor Day party to attend with a bunch of people I really happen to enjoy, but even that took every ounce of my energy just to show up. Not a good sign.
This may be TMI for the guys, but it's important for roughly half of the population – I was PMSing pretty hard Monday and Tuesday. My period started on Tuesday, then Wednesday the pain was so bad that I started puking and had to go home early (something I never allow myself to do). It took all of Thursday and Friday to feel like a functioning human being again. Did a bunch of prehab work and a 7-mile fun run Saturday just to get used to moving again.
I've had pretty serious issues around my menstrual cycle for the past 20 years, and only now am I finally on the path to getting some help. I had an ultrasound done on Thursday, where we learned that the extreme pain on Wednesday was due to a ruptured cyst. Thanks body!
I'm getting back to normal now and also coming to terms with the reality of my situation. I will likely need to program WITH my cycle, especially as I get closer to the meet/marathon. I'm reading Dr. Stacy Sims book, which is all about working with your body and your cycle, and all the ways in which women "aren't just small men." That means changes to how I train, when I train, and how, when, and what I eat. I'm still diving into this info, so expect to hear more from me the more I learn!
Training this week is a repeat of that last good week of August, but I did progress my runs since I'm feeling up to it. On the docket for Saturday: 15 miles, then heading right to my favorite recovery modality – the float tank. Wish me luck.
Read More
---