posted on March 15, 2019
---
By Casey Williams
My training sessions have been few and far between as of late due to my current health. I just started Entyvio in place of Humira, and it's going to take awhile for it to kick in. Long story short, my body is just generally achy and inflamed and I'm run down. Realizing that I'm not Superman, and the cost/benefit of training just is in the red, I've been taking it easy.
Most days involve at least one mile of walking at various paces and inclines.
Saturday (the day of our photo shoot)
Box squats with the SSB up to 405×5
this was the most weight I've had on my back in months, and it didn't kill me
Some box jumps and push ups
KB rows, single arm
At this point I was whooped, so that was the end of my training session.
Thursday
I made a concerted effort to have some structured training on this day.
I went through my shoulder warm up, then…
SSB front squats 135 3×10
Push ups 4×20 x 60 sec rest
Landmine presses 2×8
And then I fell asleep sitting down. It sucks, but that's the nature of the beast. I left the gym and went to bed early that night.
I'm at a point where I have committed to taking what's there. If I don't want to train, I don't. If I have the itch, I will do something. What is irrelevant. Just picking something up and putting it down is enough. The goal is to feel better physically, not feel better mentally about 'getting something done.'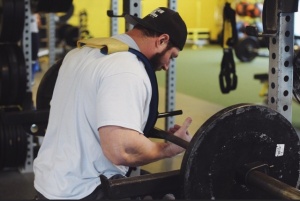 Read More
---