Blog
Meal of the Week- Alison's Breakfast
posted on May 15, 2019
---
Alison's Breakfast
Stuck in a breakfast rut, I decided to swap out the usual breakfast oats for a little egg cup action. Healthy and super easy to make = two birds, one cup!
What I love about these protein packed babies is that they are completely customizable for your changing needs or tastes. In the mood for savory? Do the classic ham & egg route. In the mood for sweet? Throw some sweet potatoes on the bottom. Need some extra greens? Spinach to the rescue. Cheese lover? Sprinkle on the dairy. Want a little Mexican twist? Throw some cilantro and chili lime seasoning on top. There are so many choices and with twelve spaces in your pan there's plenty of room to mix it up.
What you'll need:
Muffin tin
Meat of your choice
Eggs
Veggies of your choice
Spices of your choice
Cooking spray
What to do:
Spray the bottom of your pan (**Important step, do not skip!)
Line the cup with the meat of your choice. Sometimes I like to really load up on the protein so I do a double layer.
Add veggies.
Add egg. Cracked, of course.
Fish out egg shell pieces (You may be able to skip this step, depending on your egg cracking skills.)
Sprinkle on spices.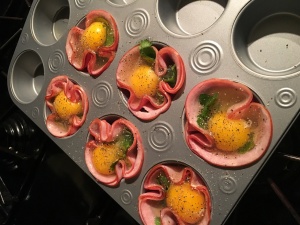 Bake at 350-ish degrees until done, around 20 or so minutes (I prefer my yolk a little runny, so I bake until the egg whites no longer jiggle)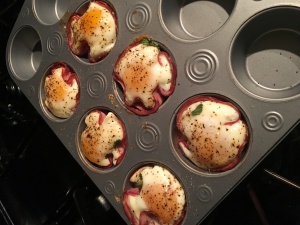 And voila! Breakfast cups fueling fitness classes (and instructors).
Read More
---