Blog
Meal of the Week – Lindsey's Last Minute Lunch
posted on September 18, 2019
---
Keeping this one short and sweet. I didn't leave a lot of time for meal prepping this weekend, but I always have a back-up plan. This is where I rely on foods that are quick to cook or just need to be microwaved for a quick meal. Surprisingly, I always get told this particular meal smells good, so maybe you'll like it too.
I was so behind this week that I grabbed my ingredients from Giant Eagle on my way to work!
What I Use:
Cooked Jasmine Rice (either in the rice cooker, or buy a bag of microwaveable rice)
Birds Eye Broccoli Stir Fry, half the bag
Cooked chicken (I try to cook up a pound of chicken thighs before running to work most days, but if I can't I grab the $5 grilled chicken breasts from the prepared food section of Giant Eagle)
Soy Sauce to taste
Cashew pieces to taste, for a crunchy topping
What I Do:
If using microwaveable rice, start with that and follow the directions. If you're lucky to have a rice cooker like me, get that going early so it's hot and ready when you're hungry.
Throw half the bag of veggies in a bowl and top with some salt, microwave until cooked most of the way through.
Cut up chicken and add to the bowl of veggies. Add soy sauce to taste. Microwave until it's all hot.
Throw on top of your prepared rice.
Top with cashews.
Eat and enjoy (even though you're in a rush).
When I think ahead, I like to keep other sauces around to mix this meal up (Thai curry is REALLY good, but even having some sriracha and PB2 around to make a quick peanut sauce is a tasty change). It's healthy, easy, and keeps me full through work, training, and teaching. And as a side note, it took every ounce of my self-control to take a picture of this bowl and not just scarf the whole thing down in 3 minutes. You're welcome.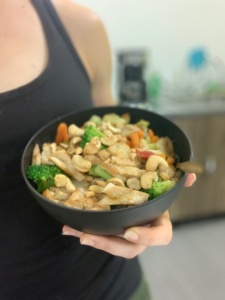 Read More
---