posted on September 11, 2017
---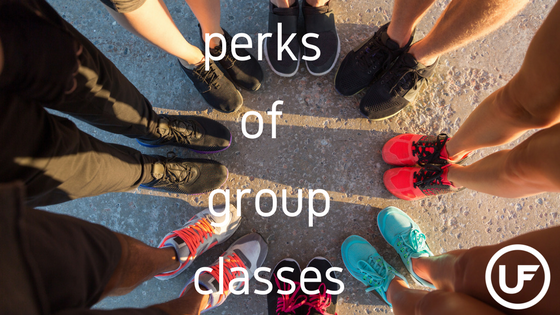 What are the perks of group fitness classes, you ask?  Besides learning new things everyday, perfecting your form/technique, getting a rockin' bod, getting some stress relief, strengthening your cardiovascular system and keeping your workouts varied & fun?? Well, yes, ALL of those things are major perks.  However, there is one benefit in particular that I think takes the fitness cake: the Community.
Think back to when you were younger, just a wee tot.  Your parents probably organized play dates for you to hangout with other kids, to have fun and let loose.  Think back to when you were a teenager, just a wee pimply lad or lady. You probably couldn't wait to get to the mall food court to chill with your other pimply friends. Now as adults, it can be difficult to escape the work world and family obligations.  Even if you do/can, how hard is it to make new friends as we age? Nearly impossible, right?
With group classes, there is a built in community of new friends. And there's nothing like simultaneously sweating with someone to really solidify a friendship. We've had members here start as strangers and transform into lifting partners, sweat sisters, bench buddies and some have even managed to find love (Awwww!)
As if making new friends wasn't a perky enough of a perk but there's the added bonus of personal accountability and motivation.  Ever find yourself mentally struggling with the idea of working out or trudging away all by your lonesome on the treadmill? These new friends, I promise, will cheer you on through every last rep and even text you before class something along the lines of "YOU BETTER BE AT CLASS TODAY, or else…"  Because the community will always be there for you, encouraging you to be & build the better you.
Here at Union Fitness, you are not a number scanned into our computer.  We are not robots sitting at the front desk or leading you through classes.  If you couldn't tell, we really really REALLY love our jobs here. It's not just a gym or a place to sweat but a true community of like-minded people.  Our members here are some of the kindest, encouraging and kickass people we know.  There's always a place to learn, grow & build here for you too.  Come join our awesome community here at Union Fitness!
Go ahead and find your newest fitness friends here: https://unionfitness.com/schedule/
Read More
---