posted on February 24, 2017
---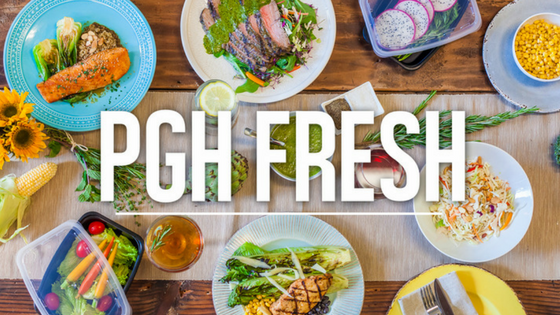 Too busy for meal prep? Look to Pittsburgh Fresh.

A few weeks ago, we wrote about the many benefits of prepping your meals for the week. Nothing makes sticking to a healthy diet easier than being prepared! However, I'm sure quite a few of you wrote off that advice: "I'm waaay too busy to spend 3 hours cooking every weekend!" I get that, and I'm not here to shame you. Over the past few months, I found my schedule quickly filling up: more hours at work, attempts at a social life, studying for new certifications, plus trying to keep my house in order. I can't even imagine how hard that would be if there were kids in the mix! Something had to give, and that something was starting to look like my weekly meal prep. Luckily, a local meal delivery company contacted me on social media, and I decided to give them a try. I am so, so happy I did!


Pittsburgh Fresh, (https://pghfresh.com/) based out of Pittsburgh's Brookline neighborhood, is a meal delivery company committed to providing their customers with food that is both healthy and truly delicious. They deliver meals to a number of locations in and around the city, and will even deliver directly to your home on Sundays! I got a chance to talk to Ling Wollenschlaeger, Pittsburgh Fresh Founder and Head Chef, about how the company got started, her feelings on healthy food and living, and her favorite place to eat in Pittsburgh.

Q: What inspired you to start Pittsburgh Fresh?
A: I wanted to help busy families and professionals maintain healthy eating habits and make eating healthy easy!!

Q: What is your healthy eating philosophy?
A: I try to eat everything fresh and avoid processed food.

Q: What is your favorite Pittsburgh Fresh meal so far?
A: Definitely the chicken bruschetta with spaghetti squash primavera.

Q: What services besides meal delivery does Pittsburgh Fresh offer?
A: We offer catering (corporate, weddings, etc.), as well as some grab & go items that you can pick up at Faster Pittsburgh in the Southpointe Town Center.

Q: Where else do you like to eat in Pittsburgh?
A: Easily the Strip District. It's a place with a melting pot of great food.

Q: What's your favorite way to work out?
A: I like to stay busy and active throughout the day and try new workouts: spinning, yoga, CrossFit, hiking, group exercises, and always having fun!!!

We are so excited about Pittsburgh Fresh and we want all of our members at Union Fitness to have a chance to try them out! On Tuesday, February 28, Pittsburgh Fresh will be in the gym doing a free dinner tasting after our 5:30-6:30pm #powerful class. Come in and give the barbell and some really tasty post-workout food a try! We'll see you there.
Read More
---