posted on February 3, 2017
---
Dolce Diet Week 2: CHEATER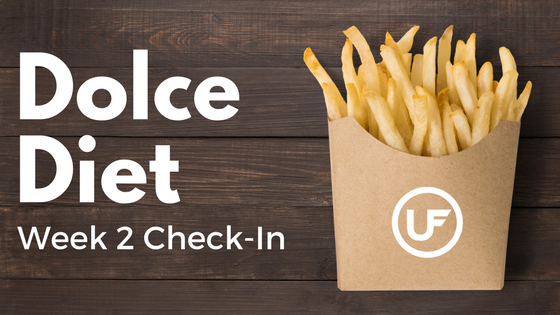 Week 2:
Change is hard.  Ok, so I have a confession. I'm about to be as honest as Usher in the early 00's right now. You know Eco Bistro right? Well on Thursday's they have a Pittsburgh steak salad special. Although I grew up in Pittsburgh, I don't have too many distinct Pittsburgh characteristics. I don't speak Pittsburghese. I can barely name the three rivers. I've never had an Iron City beer. I'm not a Steelers fan, or Penguins, or what's our other team again? BUT— I LOVE, and I'm talking an unhealthy-obsession-type-LOVE of French-fries on my salads. Lots of them. The more the better. I embrace this part of my Pittsburgh heritage wholeheartedly. Anyway, back to my confession. On Thursday, I broke from the Dolce Diet to indulge in one of those glorious Pittsburgh salads, with extra fries. (GASP!) The worst part? My coworkers managed to get photographic proof (see below). I was caught red handed.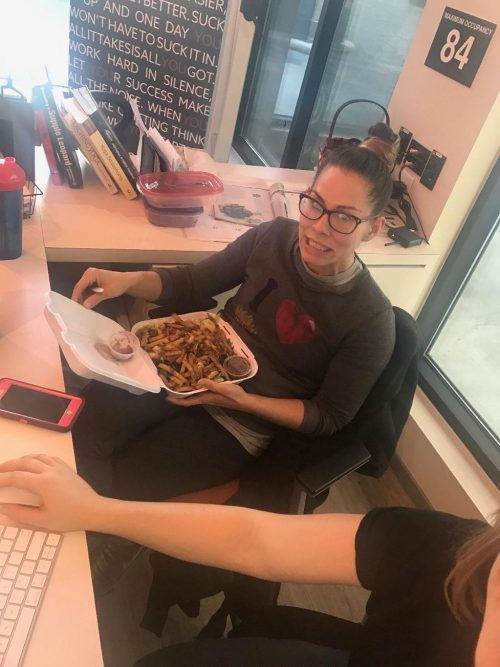 So yeah, I had something not so healthy. I "cheated" on my diet. Did I punish myself with endless, sweaty hours on the treadmill? Nope. The elliptical? Nope. Did I starve myself for the rest of the day to make up for it? Not a chance. Did I at least berate myself a little bit, maybe lament at my inability to stick to the plan? Never. What did I do then? I smirked at my coworkers and enjoyed my French-fries topped with lettuce. The end.
You see, if you know me or have ever come to one of my classes, you hear me talk about balance a lot. And not just necessarily in yoga poses when we balance on our heads. It applies to life too, including our well thought out diet and training plans. Balance is key because we are HUMANS, and we are vastly imperfect. We can't always stick to the perfect plan. We can't always be perfect parents or perfect friends or perfect exercisers. We can, however, balance it all out at the end. So, if you had something unhealthy, balance it out with some extra veggies. If you lost your temper and yelled at your kids, give them some extra kisses and snuggles. If you thought negatively about yourself, look in the mirror and say something kind.
I strive for balance but when days like this Thursday (read: French Fry Indulging) roll around, it's important to leave the guilt and judgement out of it. There is no space in the Dolce Diet, or my life, for demeaning thoughts or feelings of shame. Practice kindness. Practice balance. So, for now, I'm back to my regularly scheduled Dolce Diet plan as I try not to tip the scales too far into French-fry land…until next Thursday, then all bets are off!
Read More
---