Blog
Pool Exercises Celebrating the 4th of July
posted on July 3, 2017
---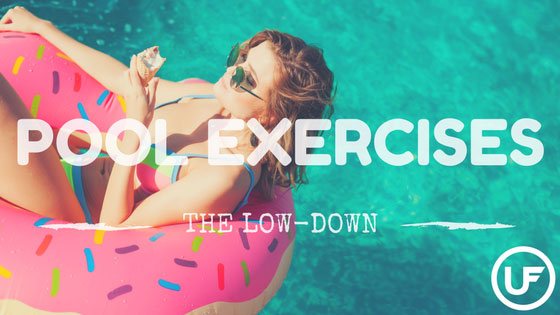 As the Fourth of July approaches, I'm sure everyone is looking forward to a day of leisure, fireworks and sun basking pool side. As with any holiday, the temptation to overindulge is strong. We totally understand that urge! Being surrounded by your favorite cookout fare (read: hamburgers, hot dogs, & strawberry Jello pretzel salad, oh my!) can be challenging. And staying active this holiday may be the last thing on your when-can-we-make-smores-in-the-fire-pit mind. So here are a couple of Union Fitness certified tips to get the most bang for your exercise buck, pool style!
1. Get off the lawn chair and into the water!
Have a beach ball? Grab it and toss it around with friends or family. Have kids? Play shark, Marco Polo or a water relay. Are you lounging solo pool side? Get a quick dip as you pretend you're Katie Ledecky or Michael Phelps practicing for the next Olympic Games. The options are endless. Staying active in the pool doesn't have to be boring!
2. Running Sprints
Running in the water may sound silly but after finishing just one sprint, we promise you won't be laughing. Water is 12% more resistant than air because of the lack of gravitational forces. This means you can work out in a pool for 30 minutes with the benefits of a two-hour dry land workout! On top of that, water accommodates resistance so the harder you push, the more resistance you experience.
3. Water Weights
They may look soft and innocent but grab yourself a pair of these bad boys (only $4!!) and watch the muscles pop! This ain't your grandma's water aerobics class! There's a reason these dumbbells are made out of foam— foam floats! While you perform your normal lifting routine underwater (think curls, flies, shrugs, tricep extensions, rows, etc) you'll fight the added resistance of keeping them underwater, challenging your muscles in new ways. Go ahead, give it a try!
As always, make sure you're warming up properly and staying hydrated. But most importantly, have fun!
Read More
---