Blog
Stretching Before & After a Workout
posted on September 20, 2017
---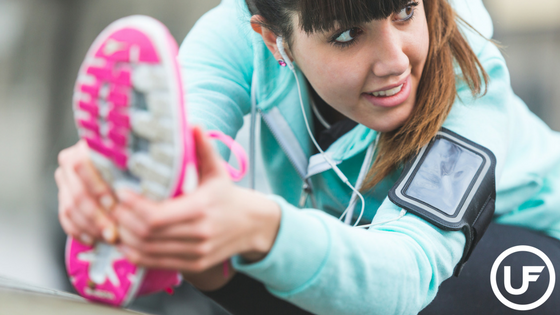 To stretch or not to stretch, that's the question.  There's a load (and then some!) of information out there on the benefits, risks, types and times of if/when/how to stretch. So much so that it can be difficult to navigate what is going to work best for you, your body and your workouts.  While the staff here at Union doesn't have a definitive "how-to" guide to stretching, we definitely encourage mobility and increasing range of motion!
So where to begin, you ask? First, let's talk about the different types of stretches:
StaticThis is a type of motionless stretch that is held anywhere from 10 to 30 seconds. Research is split whether this type of stretch is beneficial or harmful.
PNF (Proprioceptive Neuromuscular Facilitation) PNF involves a combination of isometric, static & passive stretching. It is considered a slightly more advanced type of stretching technique
Dynamic Amongst the most popular style of stretching, this type is performed by active movements that activate muscular groups to be used in the workout, improves body awareness and decreases risk of injury.
Ballistic Although hardly prescribed anymore beyond your old school PE teacher, ballistic stretching is bouncing or springing a muscle/limb beyond its normal range of motion. This type is generally seen as outdated and often dangerous.
ActiveActive stretching involves stretching a muscle by actively contracting the muscle in opposition to the one you're stretching.
Passive This type involves the use of outside assistance (ie: think strap, gravity , another person, etc) to achieve a stretch.
Isometric This stretch belongs under the static stretching group (or a motionless stretch) and involves the resistance of muscle groups through tensing of the stretch muscles.
Foam Rolling Although not technically a type or official category of stretching, foam rolling has it's place in mobility and increasing range of motion. This is a type of self myofascial release that releases tension and breaks up muscle adhesions. It has been known to speed up recovery and healing processes.
Body Tempering Similar to foam rolling, this technique replaces the foam with steel!
Yoga Maybe the ultimate winner in stretching techniques!
Keep in mind that flexibility and mobility from stretching aren't things just magically appear overnight or after a thirty second stretch.  Increasing your range of motion can be beneficial to anyone but must be worked at consistently.  There is also the very real possibility of over stretching (by now I'm sure we all have seen that terrible video of that poor cheerleader…).  So if you're unsure of where to start or how to begin, come talk to a coach about which stretching technique is best for you!
Read More
---