Welcome to our New Director of Personal Training, Curtis Miller!
posted on August 12, 2019
---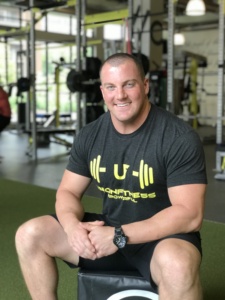 We're a few weeks too late, but we thought it was about time we formally introduced the UF community to our new Director of Personal Training, Curtis Miller!
Curtis has some big shoes to fill and has already taken off running with the position. You'll likely see him here at all hours of the day with clients, in consults, at the desk, and teaching some #powerful classes. If you haven't introduced yourself yet, please do!
Here's Curtis, in his own words:
While growing up on Maryland's Eastern Shore, sports became my number one focus and priority very early on. Like most young athletes, I began playing sports at the age of 4. Baseball and soccer quickly became my specialties. While I did continue to play for the next 14 years until I graduated from High school, I decided against playing at the collegiate level. When I enrolled in college at Salisbury University in 2010, I had my mind made up that my focus would be on my education and beginning my career. During that time, I obtained my first certification as a personal trainer and began building my clientele.
While becoming more serious with my health and exercise, I was introduced to the sport of powerlifting and was instantly hooked. I decided to compete in my first meet in the spring of 2013. During my first 2 years of powerlifting, I was also attending school full time, interning with the university's Strength & Conditioning program, and held two jobs as a personal trainer and a physical therapy tech. Although those were a challenging couple of years, they taught me the values of working hard and dedicating myself to my goals, and let me realize the passion I have for helping others reach their personal goals.   
In the spring of 2014, I graduated with a Bachelors Degree of Exercise Science, while also becoming a Certified Strength & Conditioning Specialist through the National Strength & Conditioning Association. Over the next 5 years, I began my career as a S&C coach while continuing to pursue my goals in powerlifting. One of these goals included competing at the XPC Finals in Columbus Ohio. It was there that I met The Casey Williams. He quickly became a mentor and close friend, and our relationship continued to grow as I periodically made the trip to Pittsburgh to train. Over the next two years, I continued to further my career in my hometown, but knew that I had much more to offer. With Ryan's decision to further pursue his goals, I was fortunate enough to be considered for the the the Director of Personal Training position at Union Fitness.
I am extremely grateful for the opportunity to be here and greatly look forward to helping Union Fitness grow and evolve into an even stronger community.
Read More
---