posted on January 17, 2018
---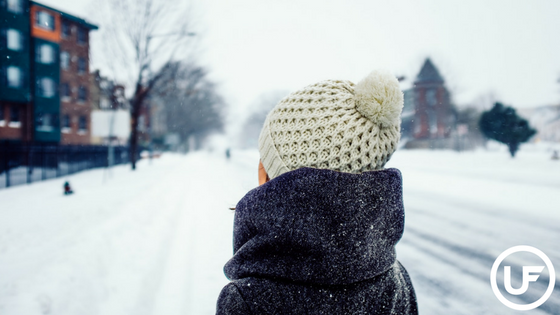 Despite the motivation that comes with every new year, it can be really difficult to get yourself up and out the door when the weather is miserable. More importantly, the recent bitter cold and constant snow and ice can make training outdoors downright unsafe. Here are a few tips to help protect yourself this winter (and a few ideas on how to mix up your training and indoors where it's warm and dry).
Know the signs of hypothermia and frostbite
Know what you're up against. If the temperatures outside are above 5 degrees F, you're probably safe from frostbite, but keep an eye on the windchill. If it's below 0, you should really consider coming indoors. Frostbite will affect any exposed skin, so first try to cover up. Second, look for signs of numbness or stinging early. Hypothermia, or an abnormally low body temperature, will mostly come into play if you're both freezing cold and wet. Early signs include shivering, slurred speech, fatigue, and loss of coordination. Get inside right away if you notice any of these.
Dress for the occasion
The key to staying warm on your outdoor adventures in the winter is layering. Look for moisture-wicking materials to help pull the sweat off your body so it doesn't freeze while you're outside. You'll also want to look for something to cover your ears and nice warm gloves – no one can run, bike, hike or ski comfortably when their head or hands are cold! This is also the season to think about your visibility on the road. As the days grow shorter, the need for reflective clothing increases. Reflective vests are easy to come by and do the job really well. You may also consider something like Yak Trax to give your shoes some extra traction while running. I don't love these for the road, but if you run a lot of trails, they'll probably be a good fit.
Slow down and enjoy the winter scenery
With our Pittsburgh roads looking like they do, now is not hte time to focus on speed. Move your speed work inside and when you're out in the snow, focus on endurance and enjoying hte moment. No matter how inconvenient snowy weather can be, we have to admit that it's pretty beautiful.
Stay hydrated
When you're bundled up, you're not always noticing how much you're sweating and how much water you're losing. If you're going to be out for over an hour, remember to take fluids, just like in the warmer months.
Move most of your training inside
We have lots of bikes and treadmills, and we've even added a few more Cardio Lab classes to our winter schedule. There are tons of ways to keep your endurance up in the gym while we wait out this cold snap. For those of you who neglect strength work during the peak outdoor seasons, now is the time to get started and prepare your body for the spring. Maybe now is the time to test out one of our #powerful classes!
Read More
---