Blog
posted on December 8, 2020
---
Let's get scientific today at UF. We can discuss the force-velocity curve all day long and debate the minor details involved in lifting, and I'd love it. Yet, today I would like to give you a quick overview on the force-velocity curve and why it is important to you.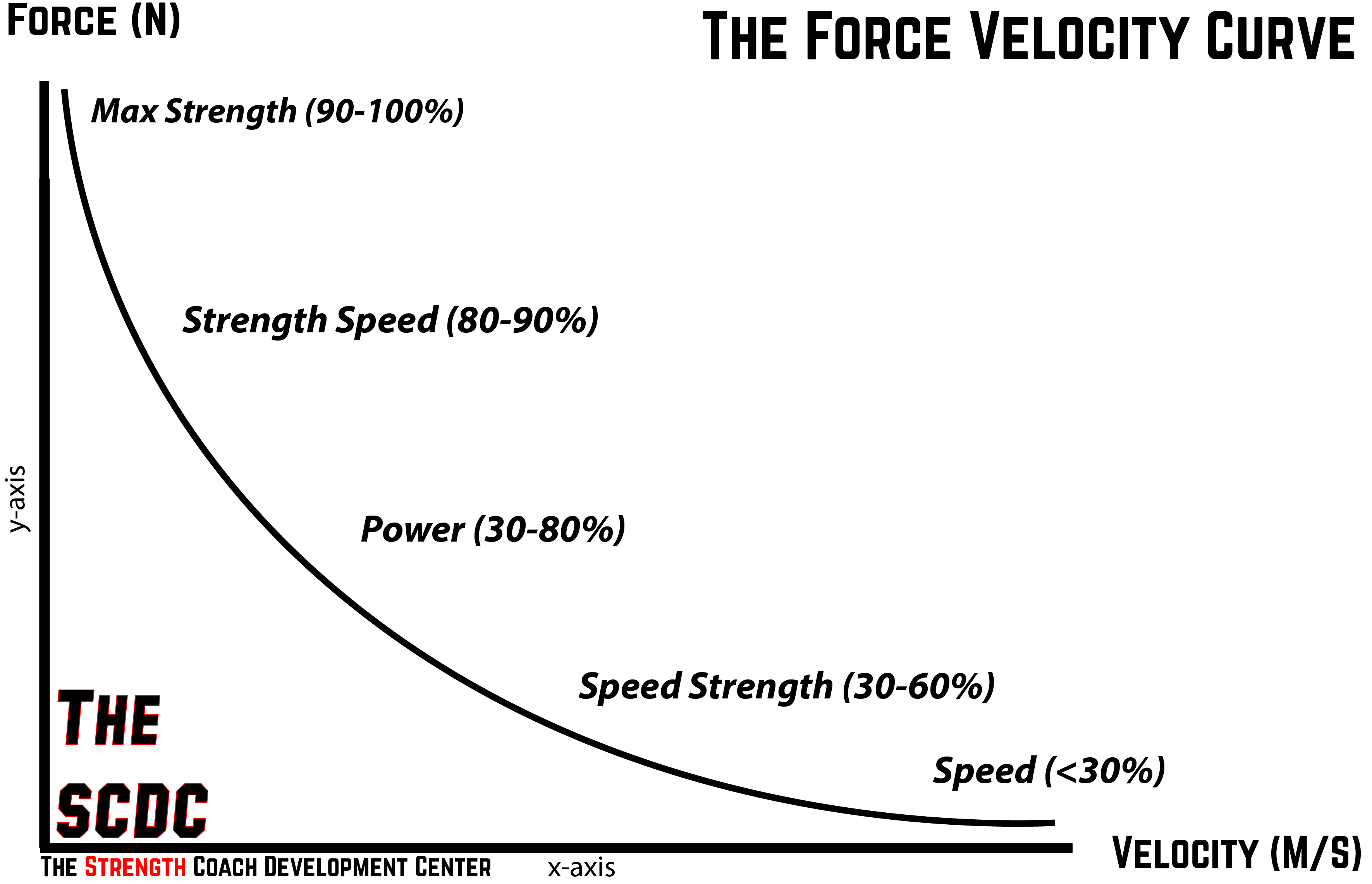 This image came from elitefts.com, if you are not aware of elitefts I would recommend checking them out. I have been fortunate enough to be involved with them for over a decade.
Notice on this curve that the top left is maximal strength. This is training when the bar is under .3 meters per second squared. For our purposes the speed at the bottom right of this graph end is at around 2.0 meters per second squared. The reason I said for our purposes is that we are looking at this graph always under load, notice the percents on this chart. What this means in practical terms is that I am not considering high level plyometrics or sprints. These do have their place yet I just want you to begin considering how this matters when dealing with weights.
Why is this important to you?
If your goal is to get stronger the single most effective thing you can do is train heavy and hard. Remember Specific Adaptation to Imposed Demands (SAID principle). If you want to move more weight you must train under heavy load. Yet as you can see this curve has a lot of space under it, and we must move the entire curve up and to the right if we wish to perform our best.
If you have never considered what I am writing about I would recommend that you begin performing some low levels strength explosive movements. You do not need to change your overall programming in order to do this. Just add this into your warm up. Here are some examples of things you could do.
Med Ball Chest Pass 3×10 prior or benching.
Box Jumps 3×5 prior to squat or deadlift.
Med Ball Scoop Throws 3×5-10 prior to squat or deadlift.
Broad Jumps 3×3 prior to squat or deadlift.
KB work, swings push presses, or snatches. I'd do these any day.
Explosive push ups 3×5-10 prior to benching.
Weighted Jumps 3×3 prior to squat or deadlift.
McGill Pull Ups prior to any lift.
These are just a few examples,  yet there are many ways to sneak in this extra work without hurting your main lifts (and hopefully helping the main lift). As with any new idea implement this in for a few cycles, test it and see what your results are. Don't ignore how this makes you feel as well. Maybe your numbers don't go up but you feel better, there is something to be said for this as well.
Read More
---