5 Healthy Memorial Day Recipes
posted on May 25, 2017
---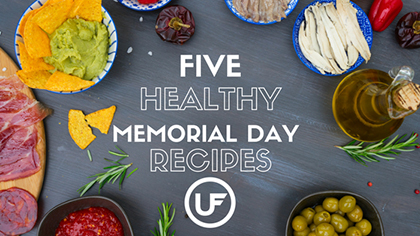 Memorial Day is coming up, and most of us like to pretend that means we get a free pass to eat junk food all weekend. Although we all wish that was true, here are some recipes on how to spend your Memorial Day weekend as healthy and happy!
Kale & Cucumber Salad
Ingredients
12 ounces curly kale
1/2 tsp salt
Leaves from 12 stems flat-leaf parsley
1 ripe Hass avocado
1 lemon
1/2 cup tahini (sesame seed paste)
1/2 teaspoon ground cumin
1/4 to 1/2 cup water
1 medium cucumber
1 to 2 medium carrots
2 scallions
Freshly ground black pepper
Directions
-Strip the kale leaves from the stems, rinse and dry the leaves then place them in a large bowl. Sprinkle 1/2 teaspoon of the salt over the kale. Massage into the leaves until the leaves soften and their color is enhanced.
-Chop enough of the parsley leaves to yield 2 to 4 tablespoons and transfer to the blender. Cut the avocado in half and discard the pit. Transfer the flesh to a blender. Cut the lemon in half, then squeeze the juice into the mixture, being careful not to let any seeds fall in. Add the tahini and cumin. Puree until smooth; add enough of the water to form a pourable dressing. The yield should be about 1 1/2 cups.
-As you prep the following ingredients, place them in the bowl with the kale. Peel the cucumber, then cut it in half lengthwise. Scoop out and discard the seeds. Cut the remaining cucumber crosswise into thin slices. Grate the carrot(s) to yield 1 cup. Chop the remaining parsley leaves to yield about 1/3 cup. Cut the light-green parts of the scallions crosswise to yield about 2 tablespoons. Season with the pepper to taste.
-Add about 1/2 cup of the dressing to the salad and toss to coat evenly. Taste, and add salt and pepper as needed. Divide the salad among individual plates and get to munching!
Guacamole Salad
Ingredients
1 pint grape tomatoes, halved
1 yellow bell pepper, seeded and 1/2-inch diced
1 (15-ounce) can black beans, rinsed and drained
1/2 cup small diced red onion
2 tablespoons minced jalapeno peppers, seeded (2 peppers)
1/2 teaspoon freshly grated lime zest
1/4 cup freshly squeezed lime juice (2 limes)
1/8 cup olive oil
1 teaspoon kosher salt
1/2 teaspoon freshly ground black pepper
1/2 teaspoon minced garlic
1/4 teaspoon ground cayenne pepper
2 ripe Hass avocados, seeded, peeled, and 1/2-inch diced
Directions
Put the tomatoes, yellow pepper, black beans, red onion, jalapeno peppers, and lime zest in a large bowl. In a separate bowl, whisk the lime juice, olive oil, salt, black pepper, garlic, and cayenne pepper. Pour over the vegetables. Toss well. Just before you're ready to serve the salad, fold the avocados into the salad. AND EAT!
Marinated Greek Chicken Kabobs
Ingredients
1 (8 ounce) container fat-free plain yogurt
1/3 cup crumbled feta cheese with basil and sun-dried tomatoes
1/2 teaspoon lemon zest
2 tablespoons fresh lemon juice
2 teaspoons dried oregano
1/2 teaspoon salt
1/4 teaspoon ground black pepper
1/4 teaspoon crushed dried rosemary
1 pound skinless, boneless chicken breast halves – cut into 1 inch pieces
1 large red onion, cut into wedges
1 large green bell pepper, cut into 1 1/2 inch pieces
Directions
Prep 30m/ Cook 15m/ Ready In 3 h 45 m
-In a large shallow baking dish, mix the yogurt, feta cheese, lemon zest, lemon juice, oregano, salt, pepper, and rosemary. Place the chicken in the dish, and turn to coat. Cover, and marinate
-3 hours in the refrigerator.
-Preheat an outdoor grill for high heat.
-Thread the chicken, onion wedges, and green bell pepper pieces alternately onto skewers. Discard remaining yogurt mixture.
-Grill skewers on the prepared grill until the chicken is no longer pink and juices run clear.
Black Bean Veggie Burger
Ingredients
1/2 cup uncooked brown rice
1 cup water
2 (16 ounce) cans black beans, rinsed and drained
1 green bell pepper, halved and seeded
1 onion, quartered
1/2 cup sliced mushrooms
6 cloves garlic, peeled
3/4 cup shredded mozzarella cheese
2 eggs
1 tablespoon chili powder
1 tablespoon ground cumin
1 tablespoon garlic salt
1 teaspoon hot sauce
Directions
Prep 25 m/ Cook 16 m/ Ready In 41 m
-Bring the brown rice and water to a boil in a saucepan over high heat. Reduce the heat to medium-low, cover, and simmer until the rice is tender, and the liquid has been absorbed, 45 to 50 minutes.
-Preheat an outdoor grill for high heat. Spray cooking spray on a sheet of aluminum foil. Mash black beans in a large bowl with a fork until thick and pasty; set aside.
-Place the bell pepper, onion, mushrooms, and garlic in the bowl of a food processor, and chop finely. Stir the bell pepper mixture into the mashed black beans. Place the brown rice and mozzarella cheese in the food processor, and process until combined. Stir the mixture into the black beans.
-Whisk together the eggs, chili powder, cumin, garlic salt, and hot sauce. Stir the egg mixture into the black bean mixture. Stir in the bread crumbs, adding additional bread crumbs as needed until the mixture is sticky and holds together. Divide into 6 large patties.
-Place patties onto the prepared foil, and grill until browned and heated through, about 8 minutes per side.
Spicy Grilled Shrimp
Ingredients
1 large clove garlic
1 tablespoon coarse salt
1/2 teaspoon cayenne pepper
1 teaspoon paprika
1-2 tablespoons olive oil
2 teaspoons lemon juice
2 pounds large shrimp, peeled and deveined
8 wedges lemon, for garnish
Directions
Prep 15m/ Cook 6m/ Ready In 21m
Preheat grill for medium heat.
In a small bowl, crush the garlic with the salt. Mix in cayenne pepper and paprika, and then stir in olive oil and lemon juice to form a paste. In a large bowl, toss shrimp with garlic paste until evenly coated.
Lightly oil grill grate. Cook shrimp for 2 to 3 minutes per side, or until opaque. Transfer to a serving dish, garnish with lemon wedges, and serve.
Read More
---