6 Ways to Overcome Gym-timidation
posted on January 3, 2018
---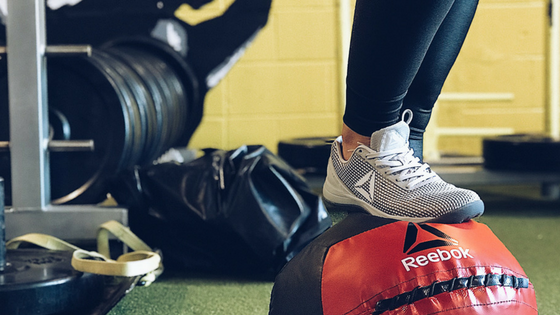 It's almost a brand new year and we know what that means— new goals and new resolutions.  Some of the top resolutions each year are to get into shape, lose weight, and be healthier.  Most of the time those goals come with a brand new gym membership.  While the staff here at Union Fitness is always here to help you accomplish those new goals, the first step is often a literal one— walking in the door. Just the thought can be overwhelming and anxiety producing. So how can you overcome gym-timidation?  Here are a few tips to help you take that first step.
1. Schedule a free New Member Orientation
Did you know Union offers a free introductory course to the gym? It's our New Member Orientation and any member is welcome to schedule a session with one of our staff members. Afraid you won't be able to find the water fountain? Or when you can use the Cardio Lab equipment or use the room for stretching? This brief orientation will take you around the gym, giving you the basic details of where, how & when of the inner workings of Union Fitness.
2. Schedule a session with a Personal Trainer
Still a little unsure? Schedule a private one-on-one session with one of our  certified Personal Trainers.  This in depth session will include things like discussing your goals and how to achieve them, your health history and of course, safely leading you through a goal-crushing workout.  Plus, the consultation will always be free! So there's no harm in just meeting with one of       our trainers to see if you jive!
3. Take one of our Group Fitness Classes
There's nothing quite like a group of like minded individuals (future friends!) to keep you motivated. Whether you're in our strength classes or yoga or cardio lab classes, you'll get help from one of our coaches and encouragement from everyone else.
4. Ask for help!
There will always be a staff member available to answer any questions or give you a little guidance.  Need a spot? We got you.  Need to vent? We got you. Can't figure out how to work the leg press machine? We can show you.  Please don't ever hesitate to ask any questions, whether you think they're silly or not, we are a family here at UF and will always be supportive without judgement!
5. Don't compare yourself to others
It can be easy to walk into a new place and instantly compare yourself to everyone around you.  Remember that everyone is on their own fitness path and as soon as you walk in the front doors, you're with friends.  No one here is judging you.  Everyone wants to support and encourage you.
6. Be confident!
Yes, you may be new to the gym scene but be confident as if you've been doing this for years (But don't forget, safety should always be your number one priority so don't be afraid to ask for help if you need it!) Remember the age old advice, "Fake it til you make it!"
So how can us veteran gym-goers help out the newbies? Leave the resting gym face at home.  Yes, we know that your back squat sets can be grueling and burpees can remove any trace of friendliness from anyone's face but try to reserve those faces for just the mirror.  A smile can go a long way, not only to show those burpees who's boss but to encourage all of our novice members.  Here's to a brand new year, new goals, new resolutions, new PR's, new badass-ery, and overcoming gym-timidation!
Watch out 2018, here we come!
Read More
---