Fitness Gifts for Your UF Friends
posted on December 15, 2017
---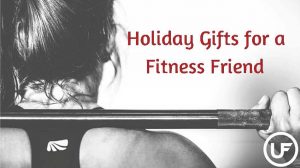 Christmas is fast approaching and if you haven't started your shopping yet, you better get on it! Finding gifts for everyone on your list can be challenging, but if you know any fitness fiends, you are in luck! Here is a list of the best holiday gifts for a fellow fitness friend:
Headphones
Everyone can always use a new pair of headphones and if you know someone who spends the majority of their time at the gym, headphones could be the perfect holiday gift! But make sure they are wireless! There is nothing worse than having to stop a workout because of your headphone cord, so be sure to be thoughtful this holiday season get the perfect kind of headphones! Wireless Powerbeats are have some of the best reviews, but if you can't afford to pay too much, there are some cheaper options. Be sure to check out these sites to find the best and most affordable pair!
https://www.beatsbydre.com/earphones/powerbeats3-wireless
http://nymag.com/strategist/article/best-wireless-headphones-cheap-bluetooth.html
Water Bottles
This is an inexpensive gift that will go a long way. Every fitness fiend needs a few good water bottles to take to their workout, so if they already have one, just buy them another one! Chances are, they will use all of the water bottles that they own. Swell Bottles are really hot right now and there is always a wide variety of colors of designs. Swell also features a lot of sales, so stay on the lookout!
https://www.swellbottle.com
Camelback is another type of water bottle that everyone loves! With a bunch of different colors and sizes, a Camelback is the perfect gift! They are also very reasonably priced, so you won't break your bank!
https://www.camelbak.com/en/bottles
Workout Apparel
Apparel is necessary for any workout fiend and there are tons of options for holiday gifts! You can go as big as a pair of lulu lemon pants or as small as a pair of socks and luckily there are a lot of reasonable priced options. Lulu Lemon is the hottest apparel right now, especially for women. They have a wide variety of pants, tops, shorts, and accessories for women and men. Though the items are very expensive, you can't go wrong with Lulu. And be sure to check out the 'We Made Too Much' tab to find top items on sale.
https://shop.lululemon.com/c/women/_/N-1z13zi2Z7vf?mnid=mn;en-US-JSON;women;features;we-made-too-much
If Lulu is out of your price range, there are still some great reasonably priced alternatives. Try looking at Forever 21, Target, and Old Navy. They have great fitness sections that are very reasonably priced.
https://www.target.com/c/activewear-women-s-clothing/-/N-5xtcl#lnk=womensactivewea
https://www.target.com/c/activewear/-/N-5xu2e#lnk=mensactivewear
http://www.oldnavy.com/products/womens-activewear.jsp
https://www.forever21.com/us/shop/Catalog/Category/f21/activewear
Fitness Equipment  
People who love fitness are probably looking for some equipment to assist them in their everyday workouts, if they don't already have it. These items could include jump ropes, ab curlers, dumbbells, exercise balls, etc. And all of these items can be purchased in store at Dicks, Dunhams, or Target, and can be purchased online at any of these stores or even Amazon.
Read More
---