How to Stay Healthy on Thanksgiving
posted on November 20, 2017
---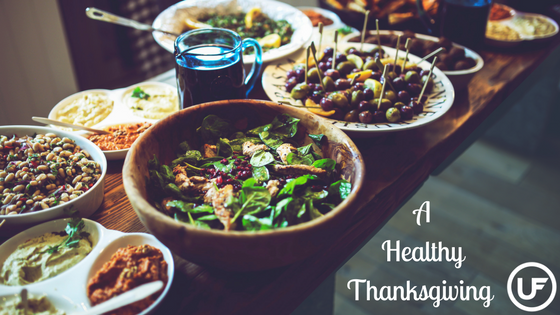 With Thanksgiving just a few days away, many of us anticipate our healthy lifestyles to take a hit.  The dinner tables will be set with stuffing, mashed potatoes, rolls, and so much more, making it hard to not go into carb overload. However, it doesn't have to be this way! There are plenty of healthy alternatives for your favorite dishes so you can enjoy food with your family without the added stress of ruining your diet.
Instead of regular mashed potatoes, try Cauliflower "Mashed Potatoes".
By making this easy swap you are lightening the carb load and saving yourself a ton of calories. There are plenty of different herbs and spices you can add to your "mashed potatoes" to make them just as delicious as the original version. Check out this Creamy Garlic Mashed Cauliflower recipe for some inspo!
Replace your original stuffing recipe with Quinoa "Stuffing".
Exchanging your carb-filled stuffing with a protein-packed version is a great way to enjoy this holiday favorite. Not only will you feel better about what you ate, it'll taste delicious too! Try making this Quinoa Sage Stuffing this year!
Make a healthy version of Mac & Cheese.
A creamy, cheesy mac & cheese is one of the best parts of Thanksgiving. There are plenty of healthy ways to get the same great taste for half the calories. Give this Butternut Squash Mac & Cheese a try!
Fill up your plate with a delicious salad.
Piling on the greens will leave less room on your plate for the unhealthier options. Not only will it taste good, it'll feel good too! With so many fall-inspired salads it'll be a hit at your dinner. Make this Apple Cranberry Walnut Salad!
A green bean dish you can feel good about.
Save the calories by opting out of a creamy green bean casserole. Instead, make Crispy Roasted Green Beans everyone will love! These green beans will be so tasty; you won't even miss the crispy onions.
Swap out Pumpkin Pie for Pumpkin Bars!
It wouldn't be Thanksgiving without the sweet taste of pumpkin pie after dinner. Whip up these pumpkin bars this year so you don't have to restrain yourself during dessert. Check out the recipe here.
Switch it up, No Bake Apple Cobbler instead of Apple Pie!
Not only will these Apple Cobblers taste delicious, you can save time and oven space because you don't have to bake them! This dessert will help you from overindulging because they will already be portioned out! Skip the pie and enjoy this instead.
It may not be easy to convert your entire Thanksgiving dinner into a healthy feast but by swapping at least one unhealthy option out for a better one is a step in the right direction! Don't stress yourself out over your meal, enjoy it, and we'll see you back at the gym! Happy Thanksgiving!
Read More
---