posted on March 10, 2017
---
Lean, Mean & Green
St. Patrick's Day will soon be upon us, and if you live in Pittsburgh like us, the annual parade (their website is taking be back to the early days of the internet) is tomorrow, March 11th. If you plan on celebrating your Irish heritage but want to dial back on the debauchery, try to find balance between your healthy habits and having a good time. We've compiled some tips that have been helpful for us, and recipes & drinks that we like to indulge in from time to time.
First thing's first, get a morning workout in. Union Fitness opens at 8am on the weekends. Shower in our facilities, and we're only a 10-minute walk from downtown. Get those extra steps in, you'll feel much better about those beers you're going to consume later! If you can't make it to the gym tomorrow, come to our happy hour yoga class tonight, it happens every Friday!
Don't go hungry. If there's a plate of corned beef hash with your name on it, fill up on the cabbage first. Cabbage is low in calories and will help you feel fuller, longer. Cabbage is a member of the brassica family of veggies that includes broccoli, kale, Brussels sprouts and cauliflowers. Indulge in the classics but keep portion sizes in the back of your mind. Eat slowly and savor each bite.
Hydrate, hydrate, and hydrate some more. Follow the tried and true rule of alternating alcoholic beverages with a glass of water.
Now what to guzzle down all day? Believe it or not, Guinness is not nearly as bad as people think, it's dark color and heavy body do not mean it's higher in calories. Twelve ounces of Guinness has 125, which is comparable to many light beers.
If you're hosting your own party, try out some of these cocktails:
Jameson Jell-o Shots (35 calories per shot)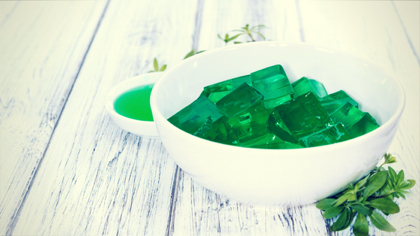 Ingredients:
3 small (.30 oz) packages Jell-o Sugar Free Gelatin
24 ounces Water (Boiling)
9 ounces Water (Cold)
15 ounces Jameson (Cold)
½ cup fresh mint leaves
1 teaspoon sugar
Juice from a fresh lime
Green Food Coloring or Dye
Place fresh mint leaves in a small dish. Sprinkle with 1 teaspoon of sugar. Using a muddle stick or a wooden spoon, press down on the leaves and twist. Repeat the action several times until the mint leaves release oil and smell minty. Set aside.
Mix the Jell-o mix and muddled mint leaves, with the boiling water until the powder is fully dissolved. Strain mint leaves.
Add the Cold water, 20 drops of green dye, or until you get the color you desire, and Jameson. Pour the cooling mixture into 28 plastic shot glasses. Refrigerate for at least 2 hours, or until fully set.
Skinny Margarita (145calories)
Ingredients:
To rim the glass: kosher salt, lime wedge
1 1/2 oz silver tequila (about 3 tablespoons)
3 tablespoons freshly squeezed lime juice
1 teaspoon light agave nectar (add 2 if you prefer a sweeter margarita)
Ice
Rim the glass: Pour a thin layer of salt onto a small plate. Rub a lime wedge around the top edge of your glass, then dip the glass into the salt, and twist. Fill the glass with ice and set aside.
Fill a small cocktail shaker with ice. Add the tequila, lime juice, and agave. Close and shake energetically until you feel the shaker start to get cold and frost over. Strain into the rimmed glass over the ice.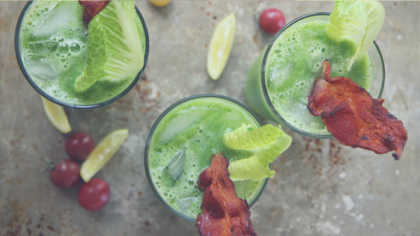 We can take credit for this delish take on a Bloody Mary, but we insist on giving it a try if you're hosting a breakfast or brunch. This particular cocktail requires a little extra work and motivation, but it's worth it! Plus, bacon is added to the mix – a little protein never hurt anyone.
Remember that moderation is key. Drink smarter, stay hydrated, watch your portions and be safe out there!
Read More
---