Blog
posted on April 10, 2019
---
Last blog I talked about how dependent I am upon my crockpot ever since having the baby. There's only so much you can do with a crockpot though and I was bored. Needing constant variety in my life is both a blessing and a curse. And to be honest, I was a little embarrassed after my blog came out that I've been so lackadaisical in the kitchen.

So I decided to stop making excuses and break out the ole culinary skills. Making healthy dinners for my family makes me feel goooood and despite what I was telling myself in my head, it really doesn't take that long to whip up something healthy and tasty. I've waited longer for Grubhub delivery than it took me to make this meal.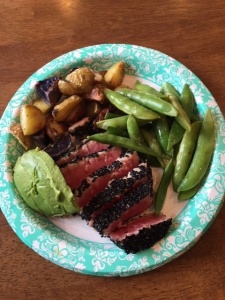 Sesame seared ahi tuna served with tri-colored roasted potatoes, sugar snap peas and topped with avocado slices.

The best part of this meal was the following conversation I had with Asha and Alina:

Asha: Mom, is this sushi? No is this steak?! It's my favorite.
Me: Kinda. It's chicken of the sea.
Asha: Ok so it's chicken.
Me: No, it's a fish. It's ahi tuna.
Alina: ASHI TUNA?!?!

It took about twenty minutes of explaining to them that Ashi (a nickname we have for Asha) Tuna is not a real thing. But considering that they still ask for "Ashi Tuna" every night for dinner, I don't think it stuck. The lesson learned here for me is that memories are made over food and family dinners together. My kids will have no fond recollections of the takeout meal we had delivered but will surely remember the time they thought they ate Asha for dinner. Cooking a meal is more than just the pieces of food thrown together. Food can be a lot more than just nutritional subsistence and I think I forget that from time to time.
Read More
---