Blog
Meal of the Week (burn your turkey edition)
posted on November 20, 2019
---
This week for our Meal of the Week we are going to change things up just a bit. We are now 8 days out from Thanksgiving. We all know that this is the ultimate "cheat day." Here at Union Fitness we truly believe in helping each and every one of our members in and out of the gym. You may spend 1-10 hours a week in Union Fitness and we hope to empower you during that time to be your best self and live your best life. Too often as strength and fitness professionals we all lose sight of the end game, a better life. So with this in mind we are preparing to stuff ourselves on Thanksgiving day with friends and family and invite you to do the same and feel no guilt about enjoying your day.
The other thing we want to do is take care of yourself and others. On Thursday November 28th we invite you (and friends, member or non-member) to come down to Union Fitness and join us in our biggest class. We have named this class the Turkey Burn. If you are using our discount and running the Turkey Trot with our friends at the YMCA we will let you slide on this one. If you are free come down and join in the superclass. All we ask of you is three things:
Bring a canned good so that we may donate to those less fortunate than us. Don't worry there will be coffee for after the workout.
Bring your Positive Mental Attitude (PMA) and maybe some friends or family to raise their holiday spirits too.
Sign up for the class online so we know how much coffee to bring. We have already added more spots to this class three times so let's burn some turkeys.
The workout will consist of some cardio class, some lifting as well as a special Powerful with CJ workout. We will have the entire gym to ourselves so should be a great day of training. The workout will begin at 9 AM and wrap up at 10 AM, just in time to check your burnt turkey at home.
If you have any questions please ask any of our staff members. Now let's empower each other for greatness.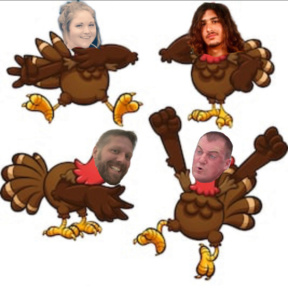 Read More
---