The Biggest Training Mistakes (and What To Do About Them)
posted on June 12, 2017
---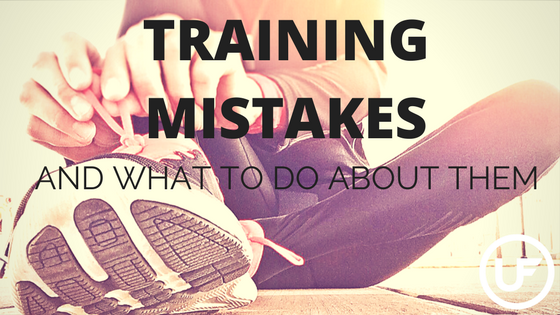 Feeling like you've hit a rut in your training? If you're no longer making progress towards your goals, you're probably making one of these major training mistakes. Read about what they are and how to fix them below!
1. Not having a training plan
Often when people start working out, the number one goal is to just get to the gym and do something. This works really well for awhile, but eventually you'll need to be a little more structured. You need to have a plan to reach your goals, and you'll need to keep track of what you're doing along the way. If you squat 95lbs for 5 reps on day 1 and you're still squatting 95lbs for 5 reps on day 45, something isn't working. The best way to get on a training program? Let the experts design one for you. At Union Fitness, all Strength Lab members get personalized programming and coaching in addition to the rest of the membership perks (unlimited access to the training room, unlimited yoga and spin classes). We work with each member to adjust their programming as they go, and change things around to work towards new goals!
2. Lack of sleep
Given how fast-paced our society has become, it's no wonder people are sleeping so little. As of 2013, the average American reported getting just 6.8 hours of sleep per night*. A full 40% are getting less than 6 hours per night! Sleep is vital to recovery, both from day-to-day stressors and the workouts your hitting so hard. That lack of adequate sleep accumulates as well, so you may be feeling fine for a week or two, but you'll eventually hit a wall. If you find yourself struggling through your training AND at work, it's probably time to start prioritizing your sleep. Check out our article on being a morning person here.
4. Being on team #norestdays
You've definitely heard the phrase "less is more," and often with training, that is definitely the case. When you're super excited about getting into your workout routine, it can be really tempting to try to go hard every single day. In reality, that's just going to hold you back. The work you do in the gym isn't fully realized until you actually recover from it – by sleeping, eating well, and taking rest days! You don't need to be totally lazy on your day off though. Leisurely walks, stretching, foam rolling, and some Slow Flow Recovery Yoga are all great ways to get some active recovery.
5. Forgetting the little things
Those last few suggestions up there, about stretching and walking? Those are usually the easiest to skip. Stretching and foam rolling aren't (usually) super fun, but over time really add up to make you a better athlete. Try to set aside 15-20 minutes every day to work on your mobility and recovery (and even increase that on your rest days). We promise you'll notice a difference!
Read More
---